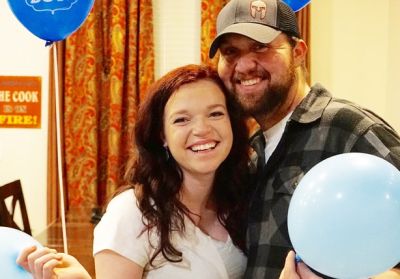 It will be a boy for Sister Wives star Maddie Brown and her husband Caleb Brush!
On Monday, the Brown family held a gender reveal party for Caleb and Maddie, who is currently pregnant with the Brown family's first grandchild. According to Us Weekly, Maddie and Caleb used balloons to let their family know the sex of their unborn baby.
"The attendees also were given blue and pink balloons, and only the blue ones could inflate," the magazine reported.
"We are both super excited for our little boy," the couple told Us. "Although we had a good hunch that it was a boy, it's nice to finally know, so we can start preparing!"
After the baby's gender was revealed to their family, Maddie posted a photo to Instagram showing her and Caleb surrounded by blue balloons.
"Little baby boy Brush! We can't wait to meet you!" Maddie captioned the photo.
Maddie and Caleb announced the pregnancy back in November. (The couple, who got married in June, wasted no time in getting pregnant after the wedding!) Maddie has stated that her due date is May 23.
In an interview with People done at the time of her pregnancy announcement, Maddie said that the baby will call her father, Kody Brown, "Grandpa" but it's not yet been decided what he will call Maddie's biological mother Janelle, or Kody's other wives, Christine, Meri and Robyn.
"We think it would be super cute to have different names for all the grandmas but ultimately they get to choose what they are called," she told the magazine.
To read our 'Sister Wives' episode recaps, click here!
(Photo: TLC)