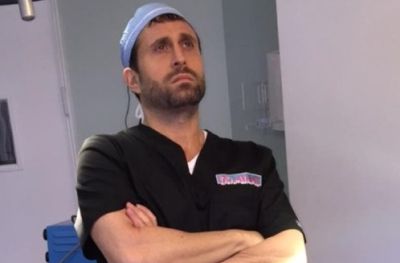 Last summer, The Ashley told you that Snapchatting plastic surgeon Dr. Miami will be getting his own reality show. While there is still no official premiere date for the show, the network that has picked it up–WEtv–has released some more details about the show!
According to the network's official description for the show, viewers will get to see all the up-close surgery and silliness that they are used to seeing on the Doc's Snapchat account.
"Dr. Michael Salzhauer, better known as the social media star Dr. Miami, believes 'plastic makes perfect,'" the show's new website reads. "A maverick, who is not only one of the best plastic surgeons in the world, but is also one of the most followed — with millions of fans getting a daily peek inside his operating room. His patients willingly agree to having their uncensored, outrageous and entertaining surgeries posted to millions in order to become Insta-famous."
The premiere season of 'Dr. Miami' will feature six one-hour episodes, each of which take the viewers through patients' complete plastic surgery journeys.
"'Dr. Miami' includes two surgeries with unprecedented access — taking the patient from consultation, to the operating room, through the challenges of recovery and to the exciting final reveal," the network states. "That journey is peppered with plenty of emotion and behind-the-scenes drama between Dr. Miami's office staff of divas."
According to WEtv, the show will premiere soon. Much of the footage for the show was shot in the fall of 2016, according to statements made by Dr. Miami on his Snapchat account at the time.
The Doc gained significant notoriety last year when he performed extensive plastic surgery on three Teen Mom franchise girls. Teen Mom 2 star Kail Lowry underwent a Brazilian Butt Lift, lipo and a tummy tuck, while Teen Mom 3 star Briana DeJesus received a vagina makeover (as you do), a Brazilian Butt Lift and breast implants. Her sister, Brittany, also had several cosmetic procedures done by Dr. Miami. All of the girls' surgeries were broadcast on Dr. Miami's Snapchat account.
Dr. Miami has also did a breast enhancement surgery on 16 and Pregnant Season 4 star Lindsey Harrison that made headlines due to the extra-large implants he used.
The Ashley will have more information on the 'Dr. Miami' show very soon! Stay tuned!
(Photo: WEtv)