The Ashley was given an exclusive tour of the GRAMMY Awards Official Talent Gift Lounge before the big show, and she was able to see firsthand all of the gifts that made up the official GRAMMY Gift Bag! This year's bag was packed with cool stuff— everything from sparkling wine filled with 24k gold flecks to vouchers for custom-made furniture!
Produced by Distinctive Assets the Gifting Lounge provided celebs the chance to come in and swoop up some cool products. This year's GRAMMY gift bag is reportedly worth a whopping $30,000!
Here are a few of the items from the gift bag that The Ashley found particularly fun for reality TV fans: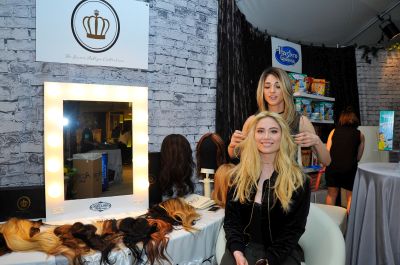 The Lauren Ashtyn Collection's Volume Extension Hair Topper & Crown Extensions:
If you're looking for big hair a la The Real Housewives franchise, this may be your solution! These high-quality hair pieces are straight out of Texas and, according to company owner Lauren Ashtyn, can literally be put in place in less than 10 seconds!
The gift bag recipients each received a voucher for one free crown extension or root coverage hairpiece. The hairpieces go over the roots or crown of the head to help add "big hair" volume without having to tease your own hair. The pieces can be styled, flat ironed or dyed!
By Gina's Pure BioGen Complex Shampoo, Conditioner & Clutch Hair Spray
Reality TV fans may remember By Gina's owner, Gina Rivera, from an episode of Undercover Boss, where she went undercover inside her Phenix Salon Suites company. Gina gifted GRAMMY-goers with three products from her hair care line that are designed to give the user thicker, full hair.
We may be seeing Gina back on television soon. An associate of hers tells The Ashley that there is currently a reality show centered around her being shopped. The show– tentatively called 'Beauty Boss'– will be an 'Apprentice'-like show for beauty entrepreneurs. Gina will gift the winner with a franchise.
The Golden Door Spa: Weeklong Stay
Celebs were gifted a week-long stay at the Golden Door, a destination spa in San Marcos, California. Reality stars, rock stars and actors have been retreating to the spa for decades. The spa is a big hit with celebs, including Jillian Michaels, former trainer of The Biggest Loser, as well as Martha Stewart and Nicole Kidman. The tranquil spa experience is not cheap, though: A week-long stay will set you back nearly $9,000!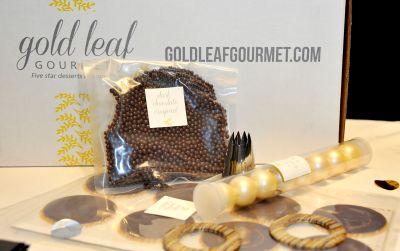 Gold Leaf Gourmet: Dessert Kits
If you watch those dessert-themed reality shows on the Food Network, you've probably attempted to recreate some of the nifty treats made on the show. If you're anything like The Ashley, you have no actual baking talent, and your attempts are more likely to show up on one of those "Pinterest Fail" posts, rather than Cake Wars. That's why The Ashley was particularly interested in the dessert kits by Gold Leaf Gourmet.
The gift bag contained a $100 gift card to Gold Leaf Gourmet, so the celebs could choose the kits they wanted to make. Each kit makes an elegant, fancy-looking dessert (without much effort…or talent!)
The kits come with everything you need to make the desserts– all the components, the recipe cards and a tutorial video. You can make anything from mini key lime pies to chocolate cappuccino cups!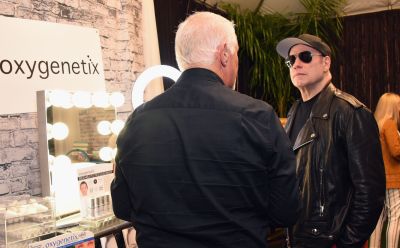 Other cool things in the GRAMMY Gift Bags:
A 10-year supply of Oxygentix Breathable Foundation & Moisturizer, used by post-op plastic surgery and dermatology patients, as well as celebs who wear heavy stage makeup on set. (Worth over $13,000)
A bottle of Blue Nunn sparkling wine, which contains actual flecks of 24-karat gold
A gift certificate from The REY3 Collection for a piece of custom-made furniture designed by Beverly Hills furniture designer Rey Viquez, and made in Los Angeles
A voucher for two hours of DJ service by DJ Spark
A year's supply of Dr. Jane's 360 Healing Saint Luminosity Skin Serum
…and much more!
In conclusion, famous people get a lot of really cool stuff.
(Photos courtesy of Getty Images)