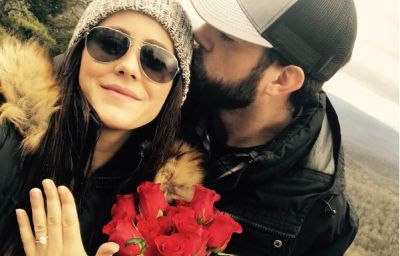 Well, Juh-nelle…we see ya got engaged…again!
That's right, Teen Mom 2 star Jenelle Evans is officially engaged for at least the fourth (but possibly the sixth time).
Over the weekend, Jenelle posted a picture on Instagram showing her snuggled up to her third baby daddy, David Eason, and captioned the pic "We've decided on forever. Perfect timing" A diamond and a dozen roses are prominently displayed.
This will be the second marriage for both Jenelle and David. Jenelle was previously married to local felon Courtland Rogers. Before that, she had been engaged at least four times (although it's likely closer to six). In addition to her engagements to David and Courtland, Jenelle was also engaged to Nathan and Gary Head. She has made past claims that she was also betrothed to exes Kieffer Delp and Andrew Lewis, although she only made it down the aisle with Courtland.
Jenelle and David welcomed their daughter Ensley earlier this month, and before that, the MTV soul mates had been keeping busy. In the year they have been together, Jenelle and David have already had a baby, gotten engaged, and planted a pre-fab home on some land in the boonies of North Carolina.
In addition to Ensley, Jenelle has two other children: Jace (who was fathered by Andrew Lewis) and Kaiser (whose father is Nathan Griffith). David also has two children from two previous relationships: daughter Maryssa from his marriage to Whitney Johnson, and son Kaden with ex-girlfriend Olivia Leedham. (David is not currently allowed to see Kaden, due to Olivia's claims that David abused her when she was pregnant. She currently has a restraining order on David, although Jenelle denies the abuse allegations.)
Anyway, on Monday's live 'Teen Mom 2' after show, the engagement was brought up, and footage was shown of David popping the question to Jenelle, which means that the proposal was filmed for the upcoming season of 'Teen Mom 2.'
Jenelle and David have not yet indicated when and where they are planning to get hitched. (Maybe her mother Barbara can get them a discount on a nice deli spread from Walmart for the wedding…although Target might make a "more classier" meat and cheese tray…)
See a close-up of Jenelle's engagement ring below:
(Photos: Instagram)