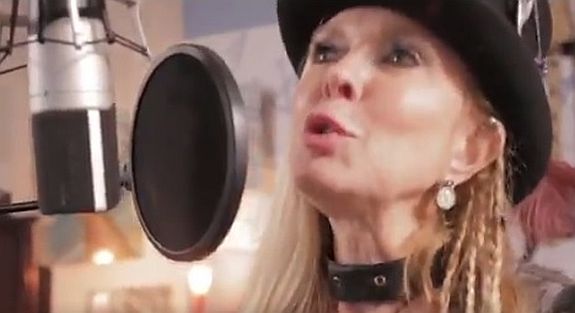 Teen Mom OG star Debra Danielsen has given the show's fans an early Valentine's Day treat. Although Deb originally stated that her rap music video (yesss) would be released in April, it appears that she just couldn't wait to show it off. That's right: the music video for "Debz OG" is officially here!
Dozens of people have been waiting for it's arrival! 
Debra, who is the mother of Farrah Abraham, stars in the video, which appears to have been filmed in some sort of recording studio that possibly belongs to a hoarder or something. She is all dolled up in a top hat and an outfit that's straight off the Forever 21 clearance rack (from 2006, naturally).
She barks, shrills and "raps" to such fine lyrical offerings such as "I'm Debz OG, oh yeah you know me…" and "Oh, it's a celebration…I stay fresh no expiration!" (Click here for a full lyrical breakdown.)
The best part is when she is just awkwardly dancing (for no one) in front of a book case. At one point she's doing some odd jumping jack-like jig, with arms, legs and feet flailing everywhere.
It's honestly like a fever dream you have after watching "Chicago" one too many times or something.
It appears that "Debz" is in on the joke, but it's so bad it's not even funny ironically.
To see other horrific music videos made by reality TV stars, click here and here!
Watch the full horror show below:
OMG! Check out the music video premiere of @F1abraham's Mom, @ddanielsen's FIRST ever rap song, #DebzOG! ?? pic.twitter.com/uCQTWLh4tM

— #TeenMomOG (@TeenMom_OG) February 14, 2017