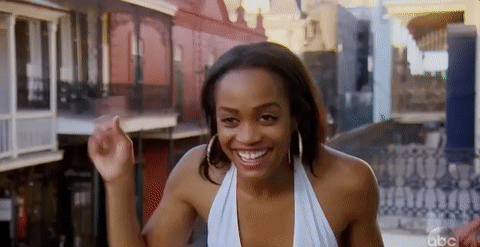 Earlier this week, Rachel Lindsay made history when it was announced that she would be the first black Bachelorette in the show's history. This marks the first time in 33 seasons (counting both 'Bachelorette' and Bachelor seasons) that an African-American has snagged the lead role.
In an interview with People, Rachel revealed that she won't be putting much focus on the race of the suitors who will be competing for her heart later this year.
"Physically, I really don't have a type," Rachel told the magazine. "I'm very open, which I think will be really exciting when the guys come out the limo because I don't know what I'm going to get!"
Rachel, who is a cast-off from Nick Viall's current season of 'The Bachelor,' told People that interracial relationships are nothing new to her.
"My dad's side of the family is all intermixed," she said. "If you came home and saw my family, you would see that everyone looks different — from aunts, uncles and the cousins to brother-in-laws. We're very accepting. It's really about finding love and not what the person looks like on the outside."
The 31-year-old attorney said on Good Morning America that she's not any different from the women who have starred as 'The Bachelorette' before her.
"I'm honored to have this opportunity and to represent myself as an African-American woman and I just hope that people rally behind me like they did in Nick's season," she said. "Even though I'm an African-American woman, it's not different from any other Bachelorette."
'The Bachelor' franchise has long been criticized for not being very diverse. Usually, only a few minorities are cast each season, with most of them being let go by the lead in the early episodes. The only other 'Bachelor' franchise lead who was a minority was Juan Pablo Galavis, a Venezuelan who starred as the 'Bachelor' in 2013.
On her blog, former 'Bachelorette' Ali Fedotowsky shared her thoughts on Rachel becoming the next rose-giver.
"I am so thrilled for her! Us Bachelorettes are all close and I am so happy to welcome Rachel to the group!" Ali wrote. "She's cute, smart, sweet and sassy! I cannot wait to see her find love! Such a perfect choice as the new Bachelorette. And yes, I am very happy to see a little diversity join our family!!! Rachel said it best, her journey to find love will be no different just because the color of her skin is. I think this is such an exciting time for the franchise and I will be watching her on her quest to find the one!"
To read The Ashley's recaps of the currently season of 'The Bachelor,' click here'!
(Photo: ABC)