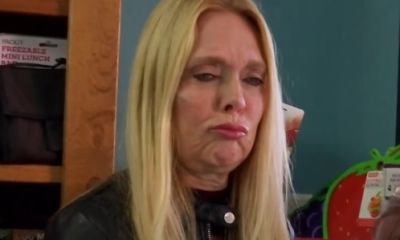 Earlier this week, The Ashley told you about that the Teen Mom special starring Farrah Abraham' mother, Debra Danielsen, has had its premiere date moved up. "Being Debra" is scheduled to air on MTV tonight, so let's get ready for all the sequined halter top and hip-hugger jean fun that's about to come our way!
It appears that "Being Debra" will primarily focus on Deb trying to get her family members to like her new "Debz OG" rap song. (The Ashley still can't believe she is actually typing that sentence right now.)
Unfortunately for Deb, no one wants to listen to her rap about staying "fresh for the celebration" and whatnot. In fact, she can't even get her granddaughter, Sophia, or Farrah to listen to the completed rap song.
In one sneak peek clip of "Being Debra," Farrah is her usual "sunshine-and-light" self, as she tells her mother that she doesn't have time to listen to rap songs, even though she herself is a musical connoisseur, having released an album of ear-splitting tunes a few years ago.
"Debz OG" is saddened when she learns that Farrah doesn't want to fly to Mississippi to record a verse in the rap song.
In another clip, Debra takes Sophia out for the day and eventually tries to convince the little girl that rapping on her grandmother's song is a fun way for them to bond…or something. Sophia is having none of it. When Debra plays the song for her granddaughter, Sophia demands that Deb turn off that racket. Debra assumes that Sophia is joking when the little girl tells her rappin' granny that she doesn't like the song, but Sophia makes it very clear that the only thing that's a joke is the song.
"Being Debra" airs tonight on MTV! If you haven't seen Deb's horrific music video for the rap song, you must click here.