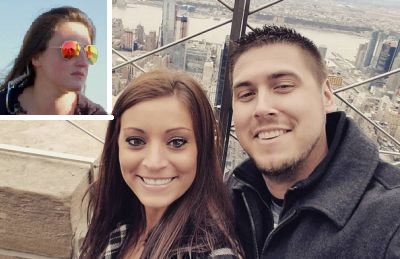 Teen Mom 2 star Jeremy Calvert and Brooke Wehr have split (again)– and this time, things between them are getting downright nasty!
The couple had been posting mushy love posts on social media just days before but on Friday night, Jeremy gleefully announced on social media that he was single and ready to mingle. From there, he and his former fiance Brooke attempted to one-up each other via Instagram posts, with Jeremy posting that Brooke was crazy and Brooke posting that Jeremy had cheated on her…and soon things got very interesting…
Brooke posted a photo to Instagram and in the caption accused Jeremy of sleeping with two women specifically– as well as 'Teen Mom 2' Producer Mandi and "about 1,000 other people." (Click here to see the now-deleted post. The Ashley has blurred out some info for privacy.)
"Guess Leah was wrote," Brooke commented on one photo. "I should have listened lol."
In yet another photo comment, Jeremy denied Brooke's claims of his sexual conquests.
"Bahaha funny thing is I haven't hooked up with either of them so funny…Some people were so right," he wrote about Brooke. "Peace crazy bitch."
After the post, Producer Mandi was inundated with hate comments on social media by fans who had watched the social media brawl play out, but she was unable to comment about the incident, except to tweet out something about "alternative facts" and "fake news." (She is technically forbidden by MTV to comment about things like this, just as the girls on the show used to be.)
Anyway, The Ashley is going on record and saying that this rumor is 100 percent NOT TRUE! Now, she has no clue if Jeremy was boinking the other girls Brooke mentioned, but The Ashley can tell you that there has never been anything between Jeremy and Mandi (although that would be incredibly juicy!)
One of The Ashley's crew sources tell her that Mandi and Jeremy were only in the same place twice while Jeremy was working in South Dakota, and both times there was a full show crew, other producers and various people there with them.
"No idea where [Brooke] got that one from, honestly," the crew member tells The Ashley. "They barely interact at all, except when they would text to set up filming for when Jeremy was in South Dakota. There have been some incidences when people from the crew have gotten (hahaha) personal with friends of the cast or whatever, but the Mandy/Jeremy hookup never happened, plain and simple.
This is, of course, not the first time Jeremy and Brooke have split. Last month, the couple had a brief breakup, but they got back together.
The couple had been (unsuccessfully) attempting to launch a joint clothing line, CalvertWehr, for months, and right before their split, they had thrown a few pieces up on the clothing line's website. Since the split, though, all of that has been yanked, and the site now only has a photo of Jeremy along with the phrase, "Stay tuned…"
During a live Instagram video today, Jeremy answered fans' questions, revealing if there is a possibility now that he's single that he will reunite with his ex-wife, Leah Messer.
"I'm never getting back with Leah!" Jeremy said. "We are strictly friends now and have been since we split."
Ding-dangit!