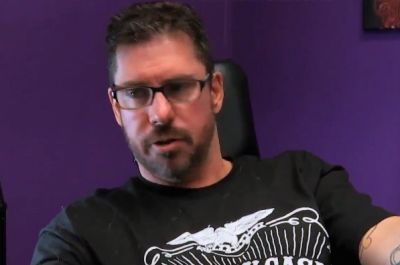 From the people who brought the Teen Mom specials "Being Debra," "Being Butch" and "Being The Edwards," here comes… "Being Matt!"
No. Seriously.
The Ashley can exclusively confirm that MTV is planning to do a one-hour special on Matt Baier, the controversial fiance of Teen Mom OG star Amber Portwood.
Although The Ashley does not know when (or if!) the "Being Matt" special will air, several sources have confirmed to The Ashley that the special was filmed last month.
From what one source tells The Ashley, Matt is getting the special in hopes that viewers will "see a different side of Matt, and they want to show that he's 'misunderstood' or something."
The Ashley hears that the two children that Matt has always acknowledged— the college-aged daughter and the teenage son who live in Massachusetts– were flown out to Indiana so that they could be filmed interacting with Matt for the "Being Matt" special. Matt has a good relationship with these two children, but it will be the first time they appear on 'Teen Mom OG.' (Matt's oldest son, Chris Baier, appeared on 'Teen Mom OG' last season but will not be part of this special, from what The Ashley hears.)
Matt's cousin Micheal and friend Jeff were also flown in to film for the special, as well as a redhead female friend of Matt's family. MTV wined and dined Matt's friends and family, and even paid for a hairdresser to come to Amber and Matt's home to do Matt's daughter's hair!
Viewers will watch as Matt & Co. go snowboarding, go out to dinner and talk about how Matt has been unfairly shown in a negative light by the public over the past few years.
Some of the other 'Teen Mom' cast members are unhappy that the show's producers have chosen to do a special on Matt, instead of a "positive" supporting cast member, or a positive event related to the cast. (For instance, several members of the main cast have recently opened businesses, had personal accomplishments, etc. that some cast members feel would be good to focus air-time on, rather than Matt.)
The Ashley believes that there are other "Being" specials coming, in addition to "Being Matt." She will update this when more info is available!
UPDATE! The "Being Matt" special airs Monday, April 10 on MTV! Watch a sneak peek of the show below:
(Photo: MTV)