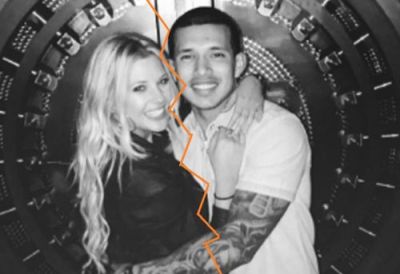 The relationship between Teen Mom 2 star Javi Marroquin and The Real World: Skeleton star Madison Walls ended almost as fast as it began. Fans started to get suspicious that the couple had broken up after both Madison and Javi deleted their "prom pose" couple photos off of their social media over the weekend.
On Monday, Javi confirmed to Radar Online that he and Madison "decided being friends is better off," but The Ashley hears that there was a little bit more to the story than that!
From what The Ashley hears, the breakup was not a mutual decision. Javi is the one that called things off, after realizing that Madison had less-than-honest intentions for their relationship.
Javi started to suspect that Madison had other things in mind for their relationship, aside from "true love." He was turned off by the fact that she instantly went to the media to confirm their relationship, just days after they first met in person. He also became suspicious when Madison kept trying to make everything about their relationship very public via Instagram photos, etc.
The last straw, reportedly, was when Javi found out Madison had introduced her daughter, Harper, to at least two other guys before him. (Javi was due to fly to Austin, Texas, to meet Madison's one-year-old daughter and family sometime this month.)
"This will be the third guy that Madison has introduced to Harper within a year," Madison's baby daddy, Tony Raines, told E! Online after the news of Madison and Javi dating broke.
Javi wasn't planning to introduce Madison to his son, Lincoln, any time soon, so he found Tony's quote particularly off-putting.
Another MTV source tells The Ashley that the network may possibly be considering doing some sort of Are You The One? season that features couples who have broken up. (The Ashley has not been able to totally confirm this part, though.) It's possible that Madison had her sights on doing this (or another 'exes' show) with Javi. (This last part is purely speculation, though.)
Farewell to Javison (or Mavi?). We hardly knew ye…..
(Photo: Instagram)