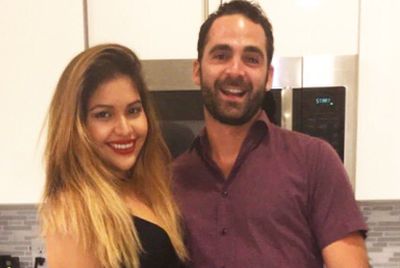 Married at First Sight Season 4 stars Tom Wilson and Lilly Vilchez have hit a milestone that very few couples from the show have made it to: their first anniversary!
The couple, who got married in April 2016, took to their Twitter accounts to celebrate the big day.
"I can't believe it's been one year, we've been through so much!" Lilly tweeted. "Happy anniversary Tom!"
"Happy anniversary Lilly!" Tom wrote. "See you tonight to celebrate! It's been one hell of a year!"
Tom and Lilly have a lot to celebrate. To date they are one of only three couples from the show to make it to their one-year anniversary. Of the 12 couples who have been matched and married on 'Married at First Sight,' only Lilly and Tom, as well as Season 1's Jason Carion and Cortney Hendrix, and Jamie Otis and Doug Hehner made it to that milestone. Most of the couples matched on the show have chosen divorce at the end of the six-week experiments.
Another Season 4 couple– Sonia Granados and Nick Pendergrast— came close to making it to their one-year anniversary. However, the couple announced last month that they are getting divorced.
The fifth season of 'Married at First Sight' will premiere later this month, with three more couples getting hitched without ever having met each other before. Click here to meet the three new couples and watch the Season 5 trailer!
(Photo: Twitter)