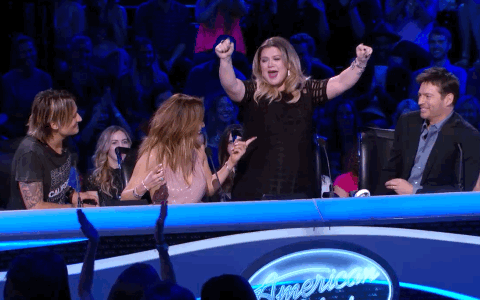 It's baaaaaack!
After a 13-month hiatus, former hit-turned-dud reality show American Idol is returning to the air.
The news was officially announced yesterday by ABC, the network that has picked the show up for its next season. ('Idol' previously ran on FOX for 15 seasons.)
"'American Idol' on ABC…that has a nice ring to it," Ben Sherwood, co-chairman of Disney Media Networks and president of Disney/ABC, said in a statement yesterday. "'Idol' is an entertainment icon, and now it will air where it belongs, in ABC's lineup of addictive fan favorites alongside Dancing with the Stars and The Bachelor.
Ben Sherwood promised that the ABC reboot of 'American Idol' will be nothing like the 'Idol' of the past, which in recent years saw its once-sky-high ratings fall to dismal levels.
"America, get ready for the return of a bigger, bolder and better-than-ever 'Idol,'" he added.
Few details have been released regarding the new-and-improved 'Idol.' However, Entertainment Tonight reports that the show's producers are hoping to get former 'Idol' host Ryan Seacrest to sign back on. (He recently started a new gig as co-host of Live alongside Kelly Ripa.)
"It's entirely possible to do 'American Idol' in New York City [where 'Live' tapes]," ET's production company source said. "[Ryan is] the glue that keeps the show together. A reboot without him is almost unthinkable. The fans want the show to come back and they want it with Ryan."
Although ABC execs think that fans want the show to come back, not everyone agrees. Former 'Idol' executive producer Nigel Lythgoe told Variety that, "It feels a little too soon to bring it back."
Here's what else we know about the 'Idol' reboot:
More details about the reboot are expected to be released later this month by ABC at the network's "Upfront" Presentation in New York City.
(Photo: FOX)