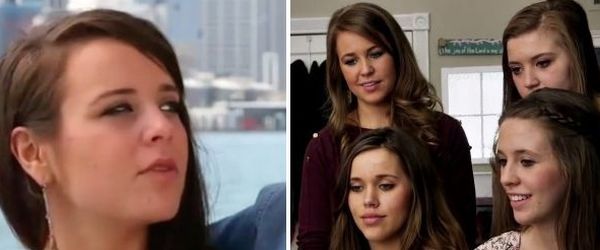 Jinger Duggar is once again bucking Duggar Family tradition— by not getting pregnant immediately after getting married!
The 23-year-old reality star has only been married about six months, but, in a new promo for the upcoming season of Counting On, Jinger's sisters appear to be shocked that she isn't expecting yet.
In the video, Jinger is pumped for info on a possible pregnancy by her sisters Jill Dillard, Jessa Seewald, Jana Duggar and JoyAnna Duggar.
"I think it's very possible that Jinger could be expecting," Joy tells us.
Jinger, who now lives in Texas with her husband Jeremy Vuolo, is then bombarded with baby-related questions by her sisters.
"Are you pregnant?" Jill asks.
"Have you taken a test yet?" Joy says.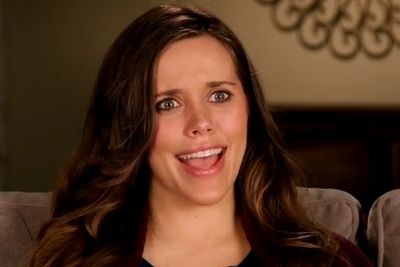 Jinger looks mildly freaked out by the baby-question peppering, and doesn't give her sisters an answer about whether or not she's pregnant.
The Duggar girls are, of course, incredibly baby-minded, having watched their own mother, Michelle, give birth to 19 kids. Immediately following her own wedding to Derick Dillard, Jill got pregnant with her first child. (She's currently pregnant with her second.) Jessa announced her first pregnancy five months after her wedding to Ben Seewald.
This is not the first time the Duggar girls have been surprised that a family member hasn't immediately gotten pregnant following their wedding. Their cousin, Amy Duggar, said that after she got hitched in September 2015, the Duggar girls were totally confused and surprised that Amy and her husband Dillon King weren't planning to have a baby any time soon.
"My cousins asked me when I got back [from my honeymoon]— they were like, 'Are you pregnant?' And I was like, 'Uh, no.' And they looked shocked," Amy told Us Weekly in October 2015. "I mean, shocked! They were…almost upset, you know?"
The promo video gave us a look at the other baby-related events we will get to watch on the upcoming season of 'Counting On,' including the birth of Jessa and Ben's second child, Henry, and Derick and pregnant Jill returning to Central America.
We will also see Joseph's courtship to Kendra Caldwell play out, as well as Austin Forsyth proposing to Joy.
The new season of 'Counting On' premieres on June 12 on TLC.
Watch the full super-tease video below:
(Photos: TLC)