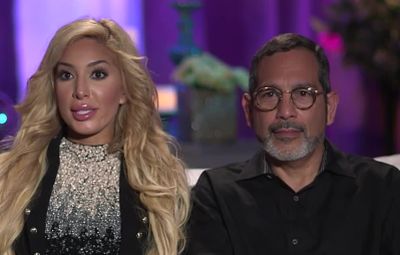 "Whatever, Michael!" is a phrase that Farrah Abraham has been saying to her father ever since she was a knocked-up teen on MTV's 16 and Pregnant. Years later, the Teen Mom OG star continues to call her father, Michael Abraham, by his first name.
Now that Farrah, Michael and Farrah's mother, Debra Danielsen, are starring together on Marriage Boot Camp Reality Stars: Family Edition, a new fan base is getting to know them…and wondering why Farrah refuses to call Michael "Dad."
In a Facebook Live interview with Best Products, Debra revealed the reason that Farrah and Michael are on a first-name basis. It's all a matter of culture, apparently…
"In our family that's not a big deal because a lot of my relatives on my dad's side are from Denmark," Deb explained. "We're only second generation in the United States. I [grew up] hearing my dad call his parents [by their first names]. It's just a thing.  I don't know for all Danes but for them and everyone on their side of their family, everybody calls everybody by their first names.
"It's a sign of respect," Debra said, adding that she doesn't allow Farrah to 'respect' her in that way.
"When she tries to pull that on me though I'm like, 'No, I'm your mother!'" Deb said.
This is just the latest explanation from the Abraham family as to why Farrah calls her father Michael. Years ago, Farrah gave a few different answers when she was asked about the name situation.
In 2010, she claimed that she did it so that her sister, Ashley, didn't feel bad growing up, since Michael is not Ashley's biological father.
"I have a sister and we have different dads, so in all fairness to my sister I call my dad Michael just like she does and everyone else in my family," she told SheFinds. "It works out fairly this way in my family. I do call my dad 'Dad' sometimes. If others look at this as a disrespectful thing then you can talk to my mom about it. I never started it, I was taught to do it this way."
Later that year, Farrah had a totally different explanation for calling her father by her first name. She claims that she lost respect for him after he took Debra's side during their knock-out-drag-out fight back in 2010.
"Because I felt like he betrayed me for being on my mom's side when she assaulted me," Farrah said at the time, adding, "but I eventually got over it. I call him dad now."
(Photo: WEtv)