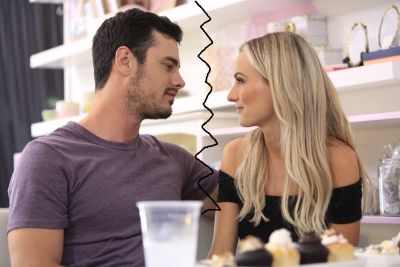 Another Bachelor couple bites the dust!
Ben Higgins and his made-for-TV-fiance Lauren Bushnell announced on Monday that they have broken up. The couple, who met on Ben's season of The Bachelor last year, announced their split via a statement to People magazine.
"It is with heavy hearts that we announce our decision to go our separate ways," they told the magazine. "We feel fortunate for the time we had together, and will remain friends with much love and respect for one another. We wish nothing but the best for each other, and ask for your support and understanding at this time."
Lauren and Ben milked their relationship as long as they could. After Ben's season of 'The Bachelor' ended, the couple starred on Ben and Lauren: Happily Ever After? and recently hosted a special about Disney-themed weddings.
Despite their portrayal of being a happy couple for the cameras, it's been rumored that the couple have been on the outs for a while. Lauren had been living with Ben in Colorado during their engagement, but its unknown if she plans to return to her native California (and her job as a flight attendant).
'Bachelor' guru Reality Steve had been hinting for a while that a breakup announcement was coming.
"Like I said Friday, if you followed either of them on social media recently, you shouldn't be surprised by this. Still sucks though," he tweeted after the couple released their statement.
Lauren and Ben each still have photos of each other up on their social media profiles, as of Monday.
Now that Lauren and Ben have split, there are only three 'Bachelor' couples still together. (Please note this is not counting couples formed on The Bachelorette, only 'The Bachelor.') Season 13's Jason and Molly Mesnick are still together and currently married, as are Sean and Catherine Lowe of Season 17. Season 21's Nick Viall is still engaged to his pick, Vanessa Grimaldi.
Now that Ben and Lauren are back to being swinging singles, they can snag a ticket down to Mexico to take part in Bachelor in Paradise, which begins filming soon.
(Photo: Freeform)