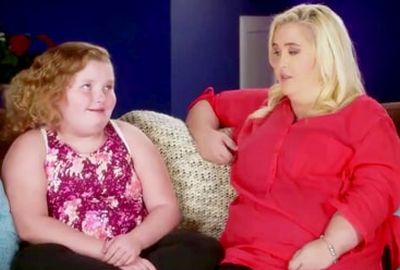 Mama June Shannon is jonesing for her next reality TV show.
According to Hollywood Life, the former Here Comes Honey Boo Boo star is in talks with producers to develop a new reality show that will focus on her achieving a healthier lifestyle for her family. June embraced a healthy lifestyle while starring on her reality show Mama June: From Not to Hot, resulting in her dropping 300 pounds. Now, June wants her kids to get healthy, too, but her 11-year-old daughter Alana 'Honey Boo Boo' Thompson, is not down for it.
"Alana is super against the new TV show," a source told Hollywood Life. "She doesn't want to lose weight or to start eating salads and exercising. She's quite happy the way she is, thank you very much. But, June is pretty determined and where there's a will there's a way.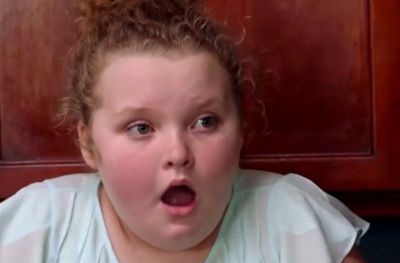 "Now that June is firmly committed to eating a healthy, balanced diet herself, she's keen to get her kids on board," the source added. "It helps that it would make for a great TV show too!"
The idea may have stemmed from the criticism June received while 'From Not to Hot' was airing. Viewers watched as June focused on losing weight and getting herself plastic surgery, all while Alana and June's other daughter, Lauryn 'Pumpkin' Shannon, exhibited appalling eating habits on the show.
During an episode of 'From Not to Hot,' viewers got to watch Alana make her own lunch by dumping an entire box of Hostess cupcakes in her lunchbox, followed by a bag of cheese balls, a container of ice cream and a jar of Nutella. (June came through and demanded that Alana make her lunch healthier—by removing the ice cream.)
Alana's weight has also caused problems between June and her ex Mike 'Sugar Bear' Thompson in the past, which could provide added drama for the new reality show.
Even though Alana is reportedly fighting the idea of a weight loss show for herself, Mama June isn't ready to give up her dream of more reality TV stardom. If the second weight-loss show doesn't work out, June has developed a back-up plan to show off her new sexy body by appearing on Dancing with the Stars.
(Photos: WEtv)