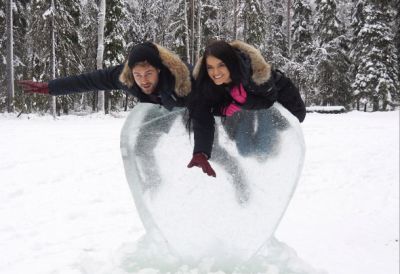 ABC is bringing us a Bachelor franchise spin-off show to help us get through those long, cold winter nights!
The network announced at its UpFronts earlier this week that it will air The Bachelor Winter Games early next year. The new spin-off will "will take competitive dating to a chilling new level." (Insert groan here.) Not only will this be the cold-weather version of the summer spin-off Bachelor in Paradise, but it will also be a nod to the upcoming Winter Olympic Games.
Basically, the producers will be placing former contestants from The Bachelor and The Bachelorette in a luxurious ski resort (that surely has its share of hot tubs and private spaces for getting busy/having emotional breakdowns) and have them compete in ridiculous sporting events.
In the ABC announcement, the network kept the groan-inducing puns coming.
"[Contestants] will go head-to-head in winter-themed athletic challenges, including the toughest sport of all — love."
'The Bachelor Winter Games' sounds much more like the franchise's very first spin-off show, Bachelor Pad (R.I.P.), which pitted contestants against each other in ridiculous competitions, all while the contestants desperately tried to get someone to like them enough to keep them around.
During 'Bachelor Pad,' contestants were competing for a cash prize, but it is unknown if there will be money involved with 'Winter Games.' (For 'Bachelor in Paradise,' the participants are only there to find love and chug margaritas.)
'The Bachelor Winter Games' will premiere sometime in February 2018 on ABC. No cast list has been announced yet.
(Photo: ABC)