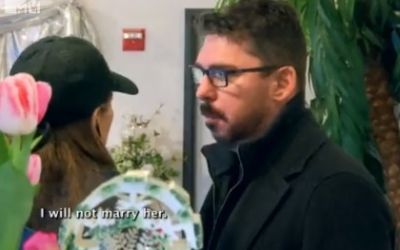 Last week, The Ashley revealed that Teen Mom OG stars Amber Portwood and Matt Baier had broken up (and then gotten back together) after Amber demanded that Matt take a lie detector test to prove that he's been faithful to her. (As you do.) While the wedding is still off (as far as The Ashley hears), it appears that the couple had been having problems long before Matt was strapped to the lie detector test!
In a sneak peek clip of next week's episode of 'Teen Mom OG,' Matt gets angry after Amber refuses to marry him spur-of-the-moment during a trip to Vegas.
Amber is obviously hesitant to get hitched, so she calls her brother Shawn to see what he thinks she should do. When Amber realizes that Shawn and the rest of her family (including her daughter Leah) would be upset if she got married without any of them present, she tells Matt she doesn't want to get hitched.
Matt's reaction is to tell Amber it's OK, but then get pissed and rant behind Amber's back.
"I will not marry her now!" Matt says. "I will not marry her now, EVER! I will make that statement."
"I'm not going to let her brother dictate my life…that f**king fa*got."
The producer seems shocked that Matt would use the slur word on TV, and tries to reason with him. Matt then tells the producer that the reason Amber won't marry him on the spot is because she secretly wants to marry her own brother.
"That's who she wants to marry," he says. "She just humiliated me on TV. I'm f**king done! DONE!"
This scene was filmed when Amber and Matt went to Las Vegas back in February. The couple teased fans that they were going to be getting married, but later revealed that it was their friends who were actually getting hitched.
Shawn has yet to comment on this clip, but from what The Ashley hears, things are very strained between him and Amber right now, due to Amber defending Matt after the breakup last week.
UPDATE! Amber has already taken to her Twitter account to defend Matt's hateful tirade.
"You guys quit," she wrote after fans who had watched the clip warned her to leave Matt. "We've all said some horrible things when we're pissed! Just remember me back in the day…just keep watching! Sending love…"
Watch the sneak peek clip below:
(Photo: MTV)