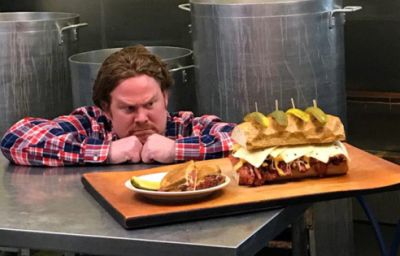 After a five-year hiatus, Man v. Food is returning to the air. While the food challenges will remain the same, the Travel Channel is changing the "man" involved!
Earlier this week, the network announced that actor Casey Webb will be taking the place of the show's original host, Adam Richman, to tackle glutinous eating challenges at restaurants across America.
"[Casey] Webb continues the quest to find America's most delicious, unique eats—taking on legendary eating challenges," the Travel Channel said in a statement. "Original host and food fanatic Adam Richman astounded viewers as he braved dozens of incredible food dares for four seasons. Now, Webb will hit the road in search of hometown hotspots with the spiciest, largest and most amazing dishes on their menus."
'Man v. Food' premiered in 2008 and ran for four years before it was cancelled in 2012. In the press release, Travel Channel exec Courtney White explained why the network decided to resurrect the show.
"['Man v. Food'] is a true, pop culture phenomenon that has inspired more than 1,000 new restaurant eating challenges in the last several years. Travel Channel couldn't resist getting back on the road, visiting cities across the United States, where our 'Man' will take on new unbelievable foods and flavors."
While the show's fans seemed thrilled that 'Man v. Food' was coming back on the air, many were unhappy that Casey would be taking Adam's place at the table.
"Sooo it is not returning ..no Adam no show why do all your shows suck anymore," one particularly upset fan wrote in the comment section of the network's announcement on Facebook.
"Boo. Bring back Adam Richman. He has such a great personality," another person wrote.
Of course, it's not surprising that Adam is not returning to 'Man v. Food.' In 2013, he wrote an essay for Men's Health in which he confessed that the food he was eating for the show had taken a toll on his health and body.
"Off the set, I exercised and ate healthy. I figured that as long as my blood work and heart were good, I was good," he wrote. "But those efforts were no match for the thousands of calories I'd eat over the course of a shoot."
Adam, who lost 70 lbs. after the show ended, has continued to appear on food-related shows since he stopped filming 'Man v. Food.'
The new episodes of 'Man v. Food' will premiere sometime in August on the Travel Channel.
(Photo: Travel Channel)