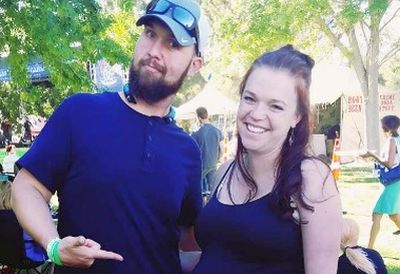 The Brown Family just got even bigger!
Madison Brown Brush, daughter of Kody Brown and his second wife Janelle, gave birth to the first Sister Wives grandchild over the weekend. Maddie and her husband Caleb Brush named the baby Axel Brush.
Baby Axel arrived at 12:13 on Saturday, May 20, weighing in at 8 pounds, 8 ounces and measuring 21 inches long.
"We're feeling both excited and exhausted at the same time," the new parents told People magazine.
From the sound of it, it took a long time for Maddie to bring her baby into the world. She told the magazine that she labored for over 72 hours, with 12 hours of hard labor and four hours of pushing. This is, of course, reminiscent of her stepmom Robyn Brown's last birthing experience, which was, of course, caught on camera for the last season of 'Sister Wives.' (Let's hope that Kody wasn't at his daughter's bedside saying stupid things to her like he did to poor Robyn while she was in labor!)
While the Brown family has 18 children, Axel is the very first grandchild for Kody and his four wives.
"We think it would be super cute to have different names for all the grandmas but ultimately they get to choose what they are called," Madison said.
Janelle told People that the entire family is excited.
"In fact the biggest trick will be giving Maddie her rest because there's going to be this long line of parents and siblings that will be continuously wanting to hold the baby."
Maddie said they were thrilled to learn in January they were having a boy and are all stocked up on camo-print baby apparel.
Maddie and Caleb got married in June 2016 and wasted no time starting a family. In November, they announced that they were expecting their first child and, from the sound of it, there will be many more Brush babies to come.
"We're looking forward to having a family," Maddie and Caleb told the magazine. Now that he's here we excited to grow our family a little bit more and spread our love even more."
Here's the first photo of Axel:
(Photos: Instagram)