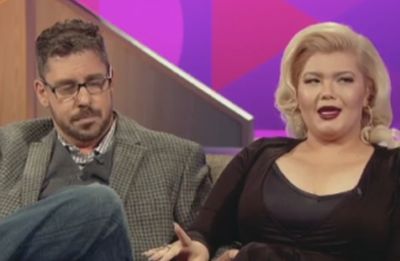 The saga of Amber Portwood and Matt Baier continues!
The Teen Mom OG stars have kept fans guessing about the status of their relationship since last week when, as The Ashley exclusively reported, Matt took a lie-detector test in Los Angeles to try to prove to Amber that he has been faithful to her throughout their engagement.
As The Ashley told you, Amber and Matt broke up after that, but the break-up was short lived, with Amber taking Matt back once she returned to their home in Indiana. (The Ashley can confirm that, as of today, Matt is still using the Indiana home he shares with Amber has his address for his pending legal cases.) 
Anyway, from what The Ashley hears, Amber is still standing by her man, and that has caused some friction between her and her brother Shawn. In fact, The Ashley's sources tell her that Shawn was supposed to fly to New York City in early June to appear on the 'Teen Mom OG' Reunion but, at least for now, he has cancelled that trip. One source tells The Ashley that Matt took a second lie-detector test once he and Amber were back in Indiana and that test may be shown on the next season of 'Teen Mom OG.'
Last week, it was reported that Matt and Amber have put their wedding on hold (again) but were still living together. (The Ashley has not been able to confirm this report from other media outlets, however.) After a clip from tonight's episode surfaced showing Matt cussing out Amber and her brother Shawn, fans urged Amber to finally dump Matt.
On Saturday, Amber made things even more confusing by tweeting a message that made it sound like she had dumped Matt.
"I think a lot of people will be shocked this season. But I feel vindicated!! #trustedmyinstincts love always," she wrote.
A day before, she assured a fan that she was capable of making an informed decision regarding her future with Matt.
"Listen I'm not scared to be alone?" she tweeted. "I think people are forgetting all my struggles. I'm not just some little naive girl.. nothing but love."
Two weeks ago (before the lie detector/breakup drama), Amber and Matt appeared on Brandi Glanville's "Unfiltered" podcast, and Amber opened up about why she stays with Matt, and why she doesn't listen to what people say about him being a cheater/liar/etc.
"There's a reason why we're together," Amber told Brandi. "First of all, because he's a badass mother f***er, okay? Nobody knows this…Me? Come on now. Everything I've been through, you think I'm going to be with some – I'm naive?"
During the podcast, Amber and Matt both confirmed that they frequently break up and make up. Amber has even sent Matt back home to Massachusetts a few times, but he has always made his way back to her Indiana home.
"We've broken up – I don't know how many damn times we've broken up, you know?" Amber said, with Matt confirming that the breakups usually only last a few hours.
"He's been back to Massachusetts a couple times and came back because we love each other," Amber said. "Like it ain't nothing. But we get through it. Either, you move on because somebody did something in their past, or, you know, you stay with them, you know?… And this relationship – we've been to couple's counseling…"
"We're true life partners because of that," Matt added.
"Do you see the love that I have for him?" Amber said. "Nobody ever says that, and I want people to see that."
Since the breakup drama, though, Amber has not confirmed that she has "love for" Matt anymore. As for Matt, he's been uncharacteristically quiet on his social media accounts for the last few weeks.
Stay tuned– there is definitely more to this story, coming soon!
(Photo: MTV)