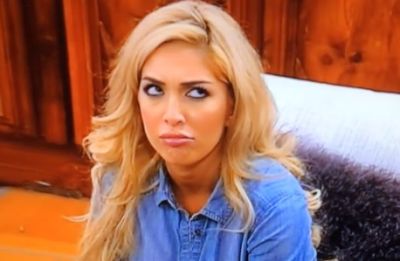 Farrah Abraham's latest comment may be her most-shocking yet!
The Teen Mom OG star exploded during a fight on Friday night's episode of Marriage Boot Camp Reality Stars: Family Edition, making racist comments toward Paula Johnson, the mother of Chad "Ochocinco" Johnson.
Farrah appeared to shock everyone in the 'Boot Camp' Mansion (as well as viewers) when she screamed that Paula (who is African-American) is a "disgusting, black piece of s**t!"
Paula and Farrah had gotten in several spats while filming in the Mansion, with the topics of their fights ranging from how Paula treats Chad, to Paula's alleged alcoholism, to the way Farrah treats her parents. But, it all came to a head on this week's episode when Farrah started insinuating that Paula is a drunk. Paula advised Farrah to stay out of her business but Farrah ignored the request.
"Trash like [Paula] needs to go to jail and needs to get the s**t beat out of her," Farrah tells her co-stars, right in front of Paula.
"This little b**ch again, I would f**k you up. I dare you to rise, rise to the occasion, puffy faced bitch!" Paula replied, before calling Farrah "trailer park trash."
Farrah then morphed into her "Backdoor Teen Mom" adult film star alter ego, telling Paula, "When I f**k your son, I'll take you a picture."
That's when things took the racist turn, with Farrah screaming her racist comment at Paula several times. Farrah's racist remark even appeared to shock her father, Michael Abraham, who immediately tried to calm his daughter down and prevent her from throwing a plate she was ready to launch at Paula.
Several of the cast members were enraged by Farrah's blatant racism, especially Kendra Wilkinson, who is married to an African-American man and has biracial kids.
"That racist b**ch," Kendra exclaimed. "She didn't just offend Paula. She offended my husband and children and me."
Kendra told the show's producers that she wouldn't stay on the show if Farrah stayed.
"I will not be in the same room as a person who discriminates and judges people on their skin color," Kendra said. "I do not accept it and that is what is wrong with the world and this is what is wrong with our country."
Fans on Twitter were also enraged by Farrah's remarks.
"As if we couldn't hate Farrah any MORE, she had to go & make racist statements! It's offensive to everyone!" one person tweeted.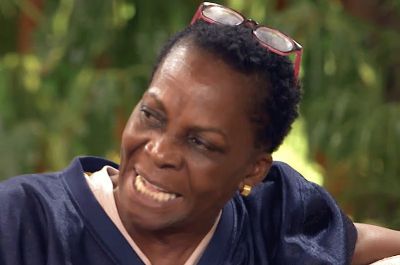 Some fans directed their anger at one of the show's therapists, Dr. Ish Major, who is African-American. Some fans felt that he should have stepped in.
"As a black therapist myself, I find it disgusting that you didn't address Farrah's racist comment right away!" one person on Twitter wrote to Dr. Major.
Dr. Major later tweeted that Farrah's racial remarks were dealt with, although it wasn't shown on-camera this episode.
"We got on [Farrah] strong about the race issue. The ENTIRE group did, wish we would have shown you all that tonight too," he tweeted. "Guys, we spent the rest of the night after Paula left talking to the group about race, the fight and how unacceptable it is."
However, some folks on Twitter felt that Paula was also being racist toward Farrah when she called her "trailer park trash." (To be fair, Paula never mentioned Farrah's race in her tirade.)
On Saturday, Kendra took to Twitter to express her thoughts on what happened.
"It's simple really," Kendra wrote. "My fam and friends are black. Camera men n producers were black around. Not going to stand around picking my nose. Felt highly uncomfortable with the things were said and spoke my mind. Both sides were wrong by throwing out racist s**t. But there was one person in that situation that could've had self control but didn't.
"Do I like Farrah or even know her? NO but do I honestly believe Farrah is a racist? NO. She f**ked up. I freaked out seeing there were 100 people n cameras on us and nobody was addressing the race card that was thrown," Kendra added.
Of course, this is not the first time that Farrah has been caught making racist remarks toward African-Americans.
In April 2016, Farrah used a racial slur against Blac Chyna, calling the model a "f**king monkey" in an Instagram comment. In September of that year, she stated during a podcast interview that she is not really into dating black men because "that's more of a Kardashian thing…God bless them."
Farrah has not really spoken out about her 'Boot Camp' comments, except to point the blame at Paula.
"Paula realize your not going to treat people badly, attack people, provoke, be racist & be an alcoholic WRONG is WRONG," she tweeted. "See ya Bye Felicia."
Watch the ugly scene play out below, and stay tuned for our full recap of this week's episode of 'Marriage Boot Camp Reality Stars: Family Edition!'
(Photos: WEtv)