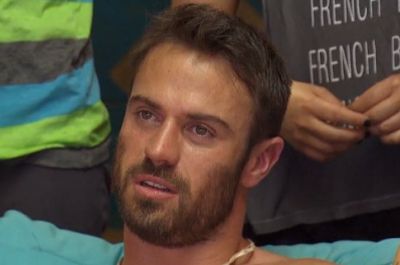 Chad Johnson makes his return to reality TV on Sunday night, starring alongside Jersey Shore star Ronnie Magro and others on the second season of E!'s Famously Single.
Chad is best known for being the "villain" on JoJo Fletcher's season of The Bachelorette and last summer's Bachelor in Paradise…and for one little, um, bathroom mishap that supposedly happened on Chad's last night in 'Paradise.'
The Ashley spoke to Chad during the NBCUniversal Summer Press Day to find out what really happened on the day his 'Paradise' cast members claimed that Chad pooped his swim trunks.
While the turd-in-the-trunks story made for great TV, Chad said it never actually happened.
"No I didn't poop my pants!" he told The Ashley. "That's one thing I'm still pissed at the production for. Right before I left, I ordered like seven pairs of swim shorts online. It turns out I bought two of the same pair. Anyway, that day, I had a few pairs set out, and I was trying to figure out which one I had worn. I guess they somehow got a shot of me smelling my shorts, so they threw that in there."
Chad, who didn't make many friends on the 'Paradise' set, says that his cast mates were the ones who spread the "soiled shorts" story.
"The cast went to the press and told them that I did [poop my pants]," Chad said. "That's something I'm not happy with the cast about. I'd love to see a few of them in person who said it did happen when it didn't."
Chad told The Ashley that he's not actually the guy people saw on 'Paradise.'
"'Bachelor in Paradise' was way played up. I knew what I was doing there," Chad said. "You're drinking already, and you're already going to the extremes."
He's hoping people will get to know him better on 'Famously Single.'
"I wanted the world to see another side of me, without the 'Bachelor'-style of editing, where they edited it to make people only see me in a certain way," Chad said. "I was in the Marine Corps. Why didn't they mention that? Because they knew if they mentioned that, some people would kind of back me up. I wanted the world to see me on dates. I've been on a few dating shows now, but I've never been on an actual date!"
'Famously Single' premieres Sunday on E! Click here for more details on the cast!
(Photo: ABC)