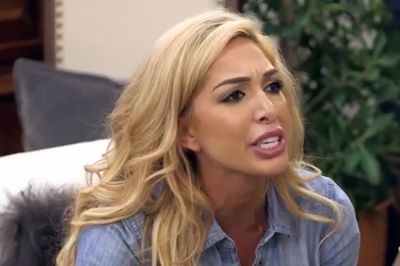 Farrah Abraham has undergone plenty of on-camera therapy, with the most-recent stint being on Marriage Boot Camp: Family Edition, but it doesn't appear that the therapy has helped the reality star change much.
The Backdoor Teen Mom took to Instagram on Friday to address the explosive fight that went down on the previous episode of 'MBC.' During the episode, she hurled a racist remark at her co-star Paula Johnson. In her Instagram post on Friday, Farrah made yet another racist comment about a 'Boot Camp' co-star (this time aimed at Paula's son, Chad 'Ochocinco' Johnson), and accused her other co-star, Kendra Wilkinson, of doing drugs.
(The Ashley has left Farrah's Instagram caption intact to preserve the "Farrah Speak.")
"The Irony of tonight's @wetv season finale shows you what's wrong with American families, society," Farrah wrote. "(Meth wh0res"kendra) (Alcoholism & attacks Paula ) Enablers every family member on the property but myself. The stereotypical African American Chad Johnson & the mother who is always out to be against her daughter (Debra) I can control myself I'm happy I don't need to be Shamed by what's wrong with our world and I rise above the mediocrity and hate crimes in this house- I'm very proud of this eye opening and much needed show by @wetv#familybootcamp cheers to one historical season finale & changing social issues one show at a time."
Farrah seemed to think that there was nothing wrong with accusing someone of being a "meth wh0re," or calling a man a "stereotypical African-American" (whatever that means.) At press time, the post was still on Farrah's Instagram account.
Kendra took to Twitter to respond to fans' comments about what Farrah had said on-screen and online.
"I'm 32 now n too tired. Lol," Kendra told a fan who asked her why she hadn't fought Farrah for what she had said. "As much as she hates me n everyone thinks I hate her. I don't. I see the innocence in everyone."
Fans were not happy about what Farrah had said on her Instagram post.
"This statement just proves how money can't buy class," one person wrote in the post's comment section. "I thoroughly enjoyed Teen Mom when you were not on it. I can only hope that in the near future you realize how completely judgmental and delusional you are. I wish you and your family the best in life. @mtv PLEASE stop paying this person to spread hate."
"So funny how you are a deadbeat mother and a p**nstar but you still think you're better than black people. Racism is a mental illness. I hope you seek help for your chronic issues," another wrote.
Farrah's father, Michael Abraham, attempted to defend his daughter's statements on Twitter, explaining that 'Boot Camp' helped Farrah change her ways.
"All ..as Kendra said she does not hate Farrah & Farrah does not hate her..they both learned from their exchanges on WETV I care for them both," he tweeted on Friday.
The only problem? Farrah had called Kendra a "meth wh0re" just a few hours before he made this statement.
'MBC' therapist Dr. Ish Major also weighed in on Farrah's racist remarks.
"I don't believe [Farrah] is racist," he tweeted. "I do believe she reacts explosively in a way to cause the most hurt possible when she feels attacked."
"Farrah is not a racist and the good Doctor knows what he is talking about," Michael responded. "And Farrah is working hard to correct this."
See the Instagram post in question below:
(Photos: WEtv, Instagram)