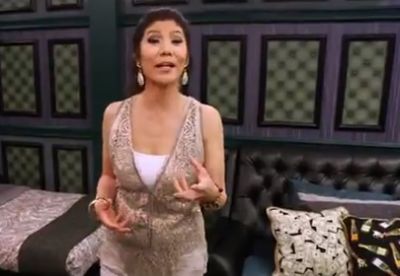 Big Brother 19 will be the "Summer of Temptation," and host Julie Chen just gave us our first look at the new house!
The theme is all about temptation as HGs will be given offers throughout the season for money, power and safety, all of which come at a price that could impact the game.
As the tour begins, Julie Chen walks in under a giant apple tree, straight from the Bible. There's even a pillow with a snake on it, which seems like they're throwing some shade at last year's winner Nicole Franzel (aka "Snacole"). The living room also has giant signs that say "Power," "Alliance" and "Money."
Julie explained the significance of the signs.
"Everyone is fighting for power," Julie said. "You need power to get ahead in this game. Then, alliance. You need friends, you need alliances to get by. Money, that's what we're competing for—a half million dollars!"
The first bedroom is the Money Room, with $64,000 in fake money framed on the walls. (I'll bet right now that at least one HG will wisely count up all the money, because that's definitely going to be an HoH question at some point).
"It's supposed to feel like your dad's den, your dad's office, the study," Julie says of the room, which features three single twin beds that are made to look like leather lounge chairs.
The kitchen has golden silverware, the lounge is filled with apples (again, the HGs had better count all the apples) and the bathroom is all about vanity with 18 Venetian glass mirrors.
The HoH room is all gold and it has functioning safety deposit boxes that require two keys, which seems like a clue that there will be something inside one of them for the HGs to find. There's also a giant chandelier in the bathroom.
"It's very gold, it's very decadent," Julie says. "This room feels like the High Roller Suite in Las Vegas…you've got privacy, you've got space, you've got power. What more could you want?"
The new house is definitely decadent and they're really driving home the theme with all of the money and apples. And with lots of things to count and working safety deposit boxes, there seem to be a lot of things to drive the HGs into looking for secrets.
Big Brother 19 premieres Wednesday, June 28 at 8/7c on CBS. To meet the new Houseguests, click here! Be sure to check out BuddyTV.com for more 'Big Brother' coverage!
Watch the full house tour below:
(Photo: CBS)