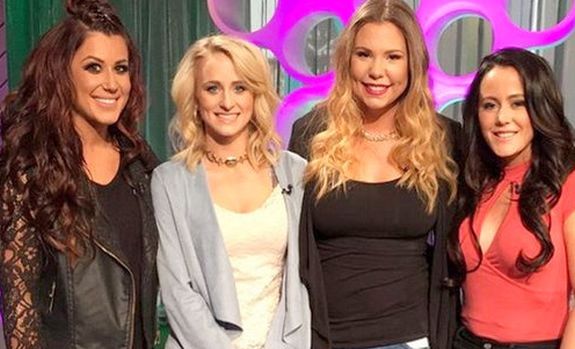 Mark your calendars! There will be more Teen Mom 2 hi-jinks coming our way this summer!
MTV announced on Monday that Kail Lowry, Jenelle Evans, Chelsea Houska and Leah Messer will soon be back on our TV screens for the eighth season of 'Teen Mom 2!' The new episodes– which, for the first time ever will feature former Teen Mom 3 star Briana DeJesus— will premiere Monday, July 17.
What can we expect to see from the girls this season? Here, The Ashley gives you a run-down of what we will–and will not–see on 'Teen Mom 2' Season 8!
Jenelle Evans: The biggest storyline for Jenelle will be her engagement. Naturally, MTV cameras were ever-present as Jenelle's current soulmate, David Eason, proposed back in February. The new season will also show Jenelle planning her wedding (which The Ashley will have more details on very soon!), and working on building her house. Of course, Jenelle's big court battle with her mom, Barbara, for Jenelle's son Jace, will play a big part in the new season as well. Oh yeah…and Jenelle had another kid who will make her debut this season.
Kail Lowry: Obviously, Kail's big storyline for Season 8 will be her pregnancy. Kail is about to give birth to her third child, but Season 8 will give viewers a bit more background on the pregnancy. One thing we won't be seeing on Season 8 is Chris Lopez, the father of Kail's unborn child. The Ashley's insiders tell her that Chris refused to sign the release forms to appear on 'Teen Mom 2' (despite a valiant effort from the show's higher-ups to get him to participate.)
Kail's nasty battle with her ex-husband, Javi Marroquin, will also be part of the new season. As The Ashley reported back in March, MTV cameras were swarming when Kail went to court and filed a PFA (Protection From Abuse) order against Javi.
In addition, Kail's college graduation will also be featured. However, it's likely that the graduation will be more of an after-thought (as per usual with this show), and the dramatic stuff will be shown more prominently, despite Kail's best efforts to get MTV to highlight the positive event in her life.
Chelsea Houska: Baby Watson, Chelsea's son, will make his debut on 'Teen Mom 2' Season 8 (although we won't be getting any 16 and Pregnant-style delivery room footage this time around). As per usual, Chelsea's segments will be littered with mentions of her daughter's father, Adam Lind.
While Adam will be a frequent topic (due to his recent failed drug tests, etc.), he will not be appearing on Season 8. Last season, Adam was very outspoken about quitting the show and The Ashley's sources tell her that he has kept his promise. Adam has yet to film any scenes for Season 8, although he has had plenty of opportunities, and has even cancelled on the producers and film crew numerous times when they showed up to film with him.
Leah Messer: Leah's kept a relatively low profile over the last six months or so, but from what The Ashley hears, much of her footage will cover her trying to build her life coaching business. Although Leah's ex-husband, Jeremy Calvert, had been adamant that he would no longer appear on 'Teen Mom 2,' he recently told The Ashley that he did eventually agree to appear on Season 8, after MTV upped his pay. Leah's return to college will also be a topic of her segments this season.
'Teen Mom 2' Season 8 premieres Monday, July 18 on MTV. Watch the season's first trailer below!
(Photo: MTV)