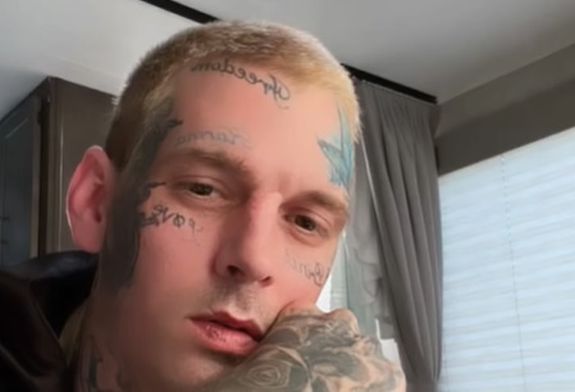 Aaron Carter— a former child singer who appeared on reality TV shows such as Marriage Boot Camp: Reality Stars and his family's show House of Carters— has died. He was only 34.
TMZ broke the news on Saturday that Aaron was found dead in a bathtub inside his home in Lancaster, California. The site reports that a 911 call was placed at 11 a.m. PST, in which the caller stated that a man had drowned. Photos from outside Aaron's house posted on TMZ show police, paramedics and yellow "caution" tape roping off the singer/rapper's home.
Aaron's career began in 1997 at the age of nine when his self-titled debut album sold a million copies worldwide. His second album, Aaron's Party (Come Get It) sold 3 million copies after it was released in 2000. He continued to release new music and rap songs, with his last full-length album was released in 2018.
View this post on Instagram
In addition, Aaron appeared on numerous reality TV shows over the years, including House of Carters, a reality TV star about Aaron, his boy band star brother, Nick Carter, and their family. Some of Aaron's other reality TV show gigs included Cribs in 2003, Dancing With The Stars in 2009 and I (Heart) Nick Carter in 2014.
In more-recent years, though, Aaron has lived a very troubled life that included multiple arrests, several extremely toxic relationships and a history of addiction and huffing. A few months back, Aaron– who spent a ton of time broadcasting his chaotic life on Instagram Live– had a welfare check done on him after fans were concerned he was huffing something off-camera and had "overdosed." The welfare check showed no evidence of drugs and Aaron later claimed it had all been a joke.
Aaron leaves behind a son, Prince Lyric, who will turn one this month. He publicly stated in September that he and the baby's mother— Aaron's on-and-off-again fiancé Melanie Martin— had lost custody of Prince due to domestic violence and drug concerns, and that he was heading to rehab for the fifth time in hopes of getting custody of his son back. (Prince has been living with Melanie's mother.)
View this post on Instagram
According to the LA Times, Aaron claimed to have suffered more than 100 seizures due to his addiction to huffing inhalants.
Melanie posted a brief video to TikTok on Saturday showing herself crying while driving.
UPDATE! On Monday, TMZ posted more information about what was reportedly found in Aaron's bathroom after his death. as well as what his last few days were like. The site stated that, according to law enforcement, several cans of compressed air, as well as some prescription pills, were found in the bathroom and in Aaron's bedroom.
Aaron was last seen alive at 2 a.m. Friday, when cops came to Aaron's home to do a welfare check after someone called them. Aaron's housekeeper answered the door and Aaron reportedly told them to leave. Aaron also reportedly told his housekeeper— who lived at the house— to leave him alone. Because of that, the housekeeper said she did not see Aaron at all on Friday. On Saturday morning, she went to Aaron's room to check on him and heard his dog inside the bedroom.
When she opened the door, the housekeeper claimed to have found Aaron's body in the bathtub, and it was not a pleasant sight.
"Law enforcement believes Aaron's body was in the tub for a long time as there was a smell of decomposition and the water had turned an unnatural color," TMZ reported. "We're told the tub's jets were still running when Aaron's body was found."
The housekeeper then called 911.

According to TMZ, no suicide note was present at the scene. Aaron's cause of death can not be determined until the toxicology reports come back. `
(Photos: Instagram; TikTok)