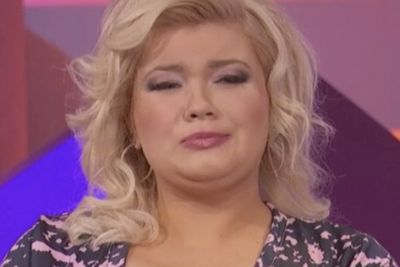 Amber Portwood is already regretting her decision to appear on Marriage Boot Camp: Reality Stars!
The Teen Mom OG star, who is currently locked away in an LA-area mansion while filming with her cheating ex-fiance Matt Baier and a cornucopia of other relationship-challenged reality stars, hit Twitter on Friday and Saturday to let her fans know how miserable she is.
"I'm doing a show that I should have never agreed to do," Amber told a fan of 'MBC'. "I've been taken out of my element too many times however I've learned a lot..love."
'Marriage Boot Camp' is notorious for putting its participants through a variety of ridiculous activities. (For instance, every season, they wheel out a fake coffin or hospital room setting and the cast has to pretend that their "loved one" died…as you do.) Perhaps Amber wasn't briefed on how things worked in the 'MBC' Mansion?
In addition to having to deal with her ex-fiance, Amber is also being forced to spend a lot of time with the other "Campers," which, judging by her tweets, is not going well.
"I need to get out of this house!" Amber posted on Friday night. "Drunk bimbo with too many opinions!! This isn't going to end well when I'm done!!! Fake."
Some fans assumed that Amber may have been talking about her rival, Farrah Abraham, taking yet another turn in the 'MBC' house (even though she just completed a season on the show). However, Amber stated that her tweets were not about Farrah. In fact, she even said she wished Farrah was at the house (so you know it's bad in there!)
"I wish Farrah was here lol..I would be much happier!!" Amber tweeted.
A few days ago, Amber tweeted that she had taken "a few steps back in the progress" she has made, and, judging from her latest tweets, she may be referring to her ability to keep her anger in check.
"I'm fine but I cannot control my anger with ignorant people," she wrote. "I've literally let this house consume me and set my anger off more than I could ever imagine! I know my limits and I'm at the end!"
It sounds like it will be quite the explosive season of 'Marriage Boot Camp!'
However, Amber is getting some family support while at the 'MBC' Mansion. Her mother, Tonya, recently visited. The Ashley can confirm, though, that Amber's daughter Leah has not visited her mother in California and will not be going there. By the time she is done filming the show and doing post-production stuff, Amber will have been in California for just under three weeks.
UPDATE! It appears that the "drunk bimbo" that Amber was talking about may be former Real Housewives star Brandi Glanville! Click here for all the details!
(Photo: MTV)