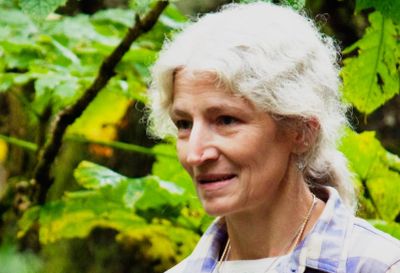 Wednesday night's episode of Alaskan Bush People proved to be one of the series' most-emotional ever when it was announced that Brown Family matriarch Ami Brown has been diagnosed with advanced lung cancer.
"Ami started getting sick months ago and we didn't know what it was, but it changed from the point of 'something's wrong' to 'something's wrong,'" Billy said during Wednesday's episode. 
During last week's season premiere, Ami was shown undergoing a biopsy after a scan revealed that she had a mass on her lungs. On Wednesday's episode, Ami's husband Billy told their seven children what the results of the biopsy were.
"Not good. Not good at all," Billy revealed of Ami's test results. "They've got to do some more tests and stuff and what they can see is stage 3 cancer. She could easily be stage 4."
Ami, who is only 53 years old, is choosing to fight the cancer.
"There's a lot for the kids to experience. I want to be there," she said. "I want to hold their babies. I want to hear them laughing … I want to see their eyes wide with enthusiasm as they experience these new things."
On Wednesday's episode, Billy stated that he and his children will be caring for Ami during her treatment.
"She doesn't want to be a burden on someone," Bill said. "That's not Ami. Ami is to take the burden away and take care of everything, but she has to admit to herself that she can't be that right now. It's just time for us to pay it back to her right now, it's all I think we can do."
Ami and most of her family have relocated to Southern California since her diagnosis. According to People, the scenes shown during Wednesday's episode were filmed only eight weeks ago.
Ami's cancer is just the latest in a string of struggles for the Brown family. Last year Billy and son Joshua (aka "Bam Bam")  spent 30 days on house arrest after being convicted of lying about their Alaskan residency in order to collect resident checks. In 2015, Billy was hospitalized after having a series of seizures.
The Discovery Channel, which airs 'Alaskan Bush People,' has set up a website that the show's fans can use to write fan letters to Ami and the rest of the Browns. Click here to write Ami a note!
'Alaskan Bush People' airs Wednesday nights on the Discovery Channel.
(Photo: Discovery Channel)