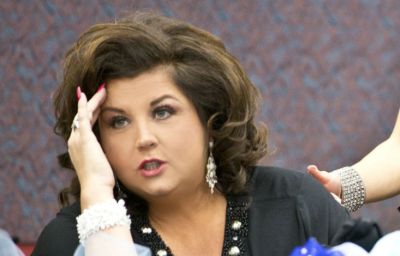 Abby Lee Miller cha-cha'd her way right into federal prison today!
The former Dance Moms star officially checked into the Federal Correctional Complex in Victorville, California, (which is nearly 100 miles from West Hollywood), on Wednesday. She arrived two hours before her required check-in time of 2 p.m. PST. Of course, the paparazzi was staked out at the facility to photograph the first moments of Abby's "Orange Is The New Black"-esque life!
According to Entertainment Tonight, a camera crew from Lifetime was also there to capture the Kodak moment. The footage from Abby's surrender will be added to previously shot interviews and will run as a special on Lifetime in the near future, according to ET. Days before checking into prison, Abby told the site that she was contractually obligated to do the special.
"It wasn't important to me, it was important to them," she stated. "I signed a four-year contract."
Abby spent her last night of freedom dining at a West Hollywood restaurant with friends, but according to TMZ, her future dining choices will be much less glamorous. The site claims that Abby's first meal behind bars will be a sandwich or wrap, bean soup and potato salad.
As The Ashley previously reported, Abby was sentenced in May to one year and one day in federal prison for bankruptcy fraud and for not reporting $120,000 worth of Australian currency that she took into the country. In addition to the prison sentence, Abby is required to pay about $160,000 in fines and be on probation for two years after her release from the slammer.
In October 2015, a grand jury charged Abby with 20 counts of bankruptcy fraud, concealing assets and making false bankruptcy declarations following an investigation. (You can read all about that here.)
Abby, who is the owner of Abby Lee Dance Co., originally filed for bankruptcy in 2010. The indictment claims that Abby schemed to defraud the court by hiding income from 'Dance Moms,' its spin-off shows, and dance instruction and merchandise sales. In total, it's estimated that Abby concealed about $755,000 in income, while still claiming she was broke.
(Photo: Lifetime)