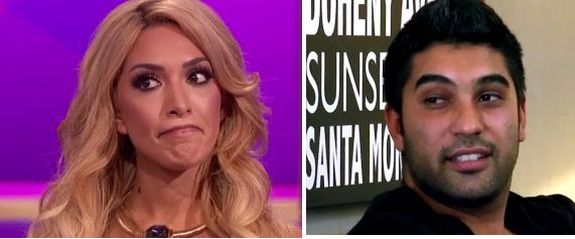 Another day, another feud for Farrah Abraham.
Teen Mom OG fans are used to seeing Farrah Abraham get into online catfights with her co-stars Amber Portwood, Maci Bookout and Catelynn Lowell, (and, well, basically everybody), but on Monday, Farrah battled on Twitter with a new opponent—her on-and-off-boyfriend, Simon Saran…and it got downright nasty!
Farrah has been off spreading her special kind of misery to men around the world while filming for the upcoming MTV UK dating show Single AF. Back in the States, meanwhile, Simon has been posting photos on social media showing him spending time with a mysterious brunette. (It wasn't Farrah but, like Farrah, this girl also likes to show off her, um, ample rump.)
Simon made it clear that he disapproved of Farrah taking part in the UK dating show, and took to Twitter to spill some tea on the situation. In a series of tweets, Simon said MTV producers ruined his relationship with Farrah by pushing her to do the 'Single AF' show.
"Her producers needed her to play single. Being a slave to money you hurt people along the way," he wrote.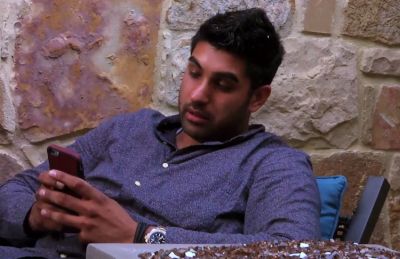 He also tweeted that Farrah's daughter Sophia is "growing up without a dad and now sometimes a mom" in reference to Farrah leaving Sophia to travel and do the dating show.
"Farrah doesn't know what she wants," Simon tweeted. "She should be home with Sophia. Instead she's dating famewh0re dickheads. Gets old."
"MTV 'Single AF' wasted all that money traveling the world and couldn't find Farrah a date," Simon wrote on Monday.
Farrah took time from her jetsetting to respond to Simon's tweets.
"FYI Simon is not in my life and really is hurt I've moved on the ride is over stop talking bout and tv if your over me," she tweeted.  (If you aren't fluent in "Farrah Speak," allow The Ashley to translate for you: Farrah's basically telling us that Simon is hurt because she has moved on and that he is no longer getting a "free ride." She advises Simon to stop talking about her if he's so "over her.")
"Worst ride ever," Simon replied.
"Why are you trying to get attention, your pathetic and I'm a great mother, professional, friend and women go stop using me for money," Farrah responded. "I'm happy I get to travel the world and meet great people unlike you at home stalking my dates and social thank me for making you."
Simon stated that Farrah was "blowing up" his phone the previous night, and Farrah responded by saying it was Simon who was texting her.
"Get a life- no one wants your nasty low life style your hateful, user, fame whore," she told him.
During the spat, Simon confirmed that the 'Teen Mom' special he and Farrah filmed earlier this year, "Being Simon," is still set to air. Simon stated that this will be the last time the show's fans will see him their TV screens.
Of course, Farrah chimed in on that as well.
"Thanks2me you got your own 'Being Simon' special," she tweeted. "LMAO Simon wants to be on tv so much ! F**kin joke! Be thankful not hateful."
Simon responded by saying he didn't even want to film the special. (He has never hid his disdain for the 'Teen Mom' producers or most of his cast mates, including Farrah's mother Debra Danielsen. However, he has still filmed for several seasons of the show. )
"Actually if you remember I didn't want to film it. Come on girl! You know me better than that. I don't need fame," he wrote. "I was made before you."
This has all the making for yet another round of Marriage Boot Camp: Reality Stars for Farrah, y'all!
(Photos: MTV)