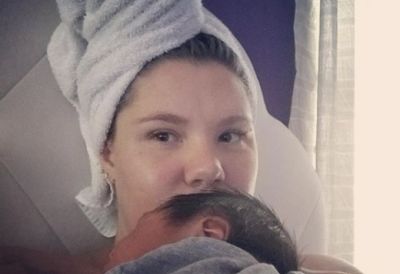 Kail Lowry has introduced the world to her new son!
The Teen Mom 2 star, who gave birth to her third child last Saturday, has posted the first photos of her new addition (who is still nameless). In one photo posted to Instagram by Kail, fans can see Kail's other sons, Lincoln and Isaac, meeting their new baby brother. In another, Kail cuddles her newborn son.
Photos and a video of Kail leaving the hospital hit Radar Online on Tuesday. In those photos, Kail is seen in a wheelchair, holding the new baby, while the baby's father, Chris Lopez, walks alongside them. On Wednesday, the site added new photos of Kail at home with the newborn.
Kail has stated on Twitter that she is still unsure what to name her son who, at birth, weighed in at 7 pounds, 15 ounces. She waited until the baby's birth to find out the gender, and later told Radar that she was excited to have another boy.
"I wasn't disappointed at all," she told the site. "Boys are all I know so I think it worked out for the better."
As far as The Ashley has heard, Kail's labor and delivery was not filmed by a 'Teen Mom 2' film crew; however, it will be incorporated into Season 8 in a similar way that the birth of Chelsea Houska's son Watson was (via home video and photos).
See the photos of Kail's newborn son below! (Click to see multiple photos!)