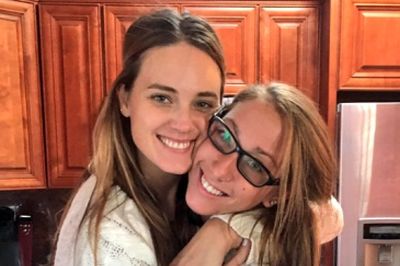 Despite their romance outlasting their time in the "Invasion of the Champions" house, it appears that The Challenge stars Nicole Zanatta and Laurel Stucky may have ended their relationship.
Nicole made mention of the split in her most-recent Instagram post, accompanied by a photo of herself and Laurel sitting on a bench overlooking the mountains.
"Some things aren't meant to last forever, they're just there for that time," she captioned the photo. "So let it be and move on, learn and grow from it. Every new relationship teaches you something take the positives with the negatives and use it as you please."
The couple began dating while filming Season 29 of 'The Challenge' in November 2016 and maintained a long-distance relationship thereafter, with Laurel even standing by Nicole's side as she became a firefighter for the FDNY in April.
Prior to the apparent break-up announcement, Nicole's last Instagram photo featuring Laurel was posted August 3, where she appeared to be getting ready to head home to New York after visiting Laurel in Montana.
Laurel last posted a photo of the two at the end of July and, while she has yet to address the presumed split, she may have hinted at her current status this week with a shot of her doing a headstand on a paddle board which she captioned, "Keepin it balanced."
Nicole was the first girl Laurel ever dated.
"I think that we have a lot of similarities and common interests," she once told MTV News. "The things where I'm lacking, she is stronger in. So it's just a good combination except she's a girl so that's the first time that's ever happened to me."
Nicole and Laurel are not part of the currently-airing Season 30 of 'The Challenge,' but this breakup sets them up nicely to appear on a future "Battle of the Exes" season!
(Photo: Twitter, Instagram)