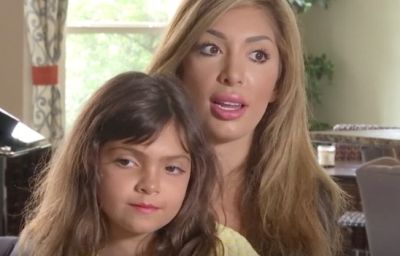 Farrah Abraham has made a lot of questionable parenting choices over the years (both on-camera and off), but her recent attempt at hawking a product on Instagram may have exposed one of her biggest parenting snafus yet!
The Teen Mom OG star took to her Instagram on Monday to promote some type of herbal supplement that is supposed to help a person focus. In her caption for the post, Farrah admitted that, without her trusty supplement she's liable to do anything—and that includes forgetting about her young daughter Sophia… in a store…
As you do…
"Ladies (and men) Ever returned to your car and realized you've left your child in the store! Omg, this happened once, but since starting @focus.factor Extra Strength there's no way that will happen!" Farrah wrote on Instagram.
In the poorly worded advertisement, the Backdoor Teen Mom urged fans to buy the "supplement" so they wouldn't make the same mistake she did… or something.
"This stuffs improved my concentration, memory and focus MAJORLY! You know I'm momma #1, this gal is getting s**t done!" she wrote on Instagram.
Farrah did not reveal how old Sophia was when she forgot her in a store, but let's just hope Sophia managed to find a nice saleslady to hang out with until her mother remembered she had a daughter and came back for her.
Farrah's followers responded to the 'Teen Mom OG' star's story in disbelief.
"Ummmmmm NO. I mean wtf who forgets their CHILD? Oh wait that's right……….YOU!" one person wrote in the comment section of the post.
"You definitely would be the parent who forgets their child in a store, because you are so disgustingly self centered! God forbid your own daughter or anyone else takes up any space in your tiny little narrow mind. #poorsophia" another person wrote.
To be fair, Farrah probably didn't write this ad copy herself. (It was not in "Farrah speak" so it's unlikely that Farrah is the author.) However, fans wondered why Farrah would post something like that on her Instagram account.
"Lmaooo whyyy whyyyyy??? Girl why would you promote something with that caption?" a fan asked.
This isn't the first time Farrah has posted some of her parenting fails on social media. Who could forget these ill-advised parenting moves Farrah has made over the years…and documented on social media and in the press?
Farrah waxed Sophia's eyebrows…when she was just three years old and caught a lot of flak for it. Farrah stated that she did not like her toddler's "unibrow" and posted about it on social media.
After her own "Backdoor Teen Mom" sex tape was released in 2013, Farrah said she would talk sex tapes with the tot. "I want to keep it real with her," she said of the sex tape. "Like, a friend. Like, if you wanted to talk and you asked me in-depth details, I would be more than open you know."
Farrah got major backlash last year when she posted photos of a then seven-year-old Sophia modeling in a bikini for Child Model magazine. Fans were disturbed by Sophia's adult-like poses, and many stated that it was too sexual of a shoot for a child.
The 'Teen Mom OG' star proudly announced that Sophia, then 7, would be allowed to hire and fire the employees working at her boutique. (Can you imagine being let go by a kid? Talk about humiliating!)
Fans were puzzled (and slightly horrified) when Farrah said Sophia can read her "Celebrity Sex Tape" novels, regardless of how old she is. "If she wants to read it…I might blush a little, but I wouldn't stop her," Farrah said at the time. "Eventually, she will have to find out that Mommy is sexual person. "
One of Farrah's most publicized (and questionable) parenting moves was when she announced (via multiple magazine interviews) that she was taking a break from her daughter, who was four years old at the time. She said Sophia was doing "her own thing." "I have my own life and I'm doing my own thing," she said. "She has her own life and she does her own thing."
Farrah got a lot of hate after she announced that the "tooth fairy" had given Sophia a big pay day for losing a tooth— $600 to be exact! Even after fans questioned Farrah's decision to spoil her daughter, Farrah stated that there was nothing wrong with the amount of money she gave Sophia.
'Teen Mom OG' fans were horrified when Farrah was caught on camera calling her daughter, who was sick with a cold at the time, a "stupid heathen" for not wanting to go to an Easter party. Farrah later told Radar Online that she was not sorry for making the comments and that she was just "keeping it real."
What was Farrah's biggest parenting fail to date? Take the poll below to vote!
(Photo: MTV)