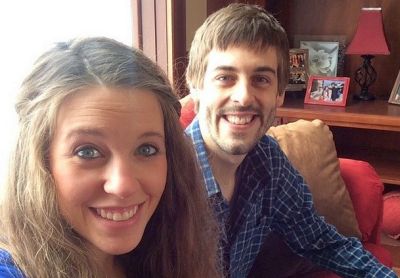 Derick and Jill Dillard of TLC's Counting On have finally closed up shop on their much-scrutinized ministry.  Following an announcement on their family website that they would not be returning to the mission field in Central America, the couple posted a note on the website of the Duggar Family website regarding the status of Dillard Family Ministries, the organization they formed in 2015.
"Beginning this month, we are discontinuing Dillard Family Ministries and will no longer be accepting donations through this organization," the couple's statement wrote. "Through a number of circumstances, and guided by much prayer and counsel, we are discerning the Lord leading our family's full-time ministry back to the United States for the time being."
While the couple did not reveal why they are shuttering their ministry, The Hollywood Gossip reported last month that "no recognized institution would grant the Dillards a license or funding to work as missionaries" and that their applications to the International Mission Board was rejected. The site stated that the Southern Baptist Convention also rejected Jill and Derick's application because the couple did not meet the organization's ministry requirements.
To be recognized by the SBC, missionaries "must complete at least 12 college credit hours comprising three hours each of new testament survey, old testament survey, biblical or systematic theology, as well as elective courses in general ministry." (Neither Derick or Jill did this. Derick holds a college degree in accounting and Jill has never attended college.)
The couple formed their tax-exempt ministry in 2015 using donations from their fans. The focus of the ministry was to bring their brand of Christianity to the people of Central America. Jill, Derick and their son Israel left for Central America in 2015, and shuttled back and forth from El Salvador to their hometown in Arkansas.
The couple posted frequent updates on their website during their time in Central America. They held workshops, preached to gang members, played soccer with the locals, and worked tirelessly to convert the local Catholics.
"If you feel the need to support our mission we would be so thankful to have you as a partner," Derick wrote in 2105, directing people to the website where they could donate.
Shortly after the Dillards arrived in Central America, fans started to question their use of donated funds. Many wondered why Jill and her family were spending so much money flying back and forth from Central America to Arkansas for things like weddings and bridal showers.
"Are you for real?" asked one fan at the time. "You left in July for missionary work and in the three months you have been back twice and airfare is thousands! Now you are staying for a month to enjoy family and friends? You are not missionaries; you are grifters asking people for money so you don't have to work."
Jill and Derick never really answered their fans' questions about how the donations were being spent, but they did offer to refund any donations, should the person who donated to their ministry want their money back.
A look at Twitter leads us to believe that Jill and Derick have taken jobs at Cross Church, a ministry that is targeted toward college students in Arkansas. According to the Collegiate and Young Leaders of the Arkansas State Conventions, members and pastors make over 100 one-on-one visits with college students weekly and perform numerous baptisms.
Derick and Jill recently posted photos of themselves at Cross Church's cookout event.
Jill, Israel, Sam, and I had a blast this evening at the #C3cookout We're excited to be joining the @c3crosschurch team! pic.twitter.com/ASMB3N11XF

— Derick Dillard (@derick4Him) August 16, 2017
"Jill, Israel, Sam, and I had a blast this evening at the #C3cookout We're excited to be joining the @c3crosschurch team!" Derick tweeted.
It is not known whether or not Derick and/or Jill are being paid for their work with the church, or if their only steady income comes from appearing on 'Counting On.'
When Derick married Jill, he was working a stable job as a tax accountant for Walmart, but he quit that job in June 2015.
We will probably see all of this play out on the next season of 'Counting On. (You know TLC is going to milk this major life change for all it's worth!)
The new season of the show premieres in September.
(Photo: Facebook)