Earlier this week, The Ashley exclusively told you that Teen Mom OG star Amber Portwood is now dating a guy named Andrew, whom she met while filming Marriage Boot Camp: Reality Stars a few months ago.
The Ashley was attempting to preserve some of Andrew's privacy with her first post, and did not reveal Andrew's full name and other identifying info. However, Amber shared a picture of her new boo on Instagram and Twitter today, so it's clear that Andrew is not exactly looking for privacy so The Ashley will go ahead and reveal more info on Amber's new boyfriend, Andrew Glennon.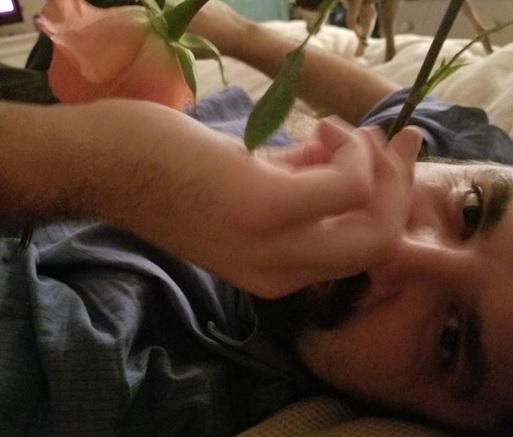 Age: He recently turned 33 in June, and while he is still older than Amber by six years, their age difference is much less than Amber had with her ex-fiance, Matt Baier.
"He's 33?? I'm 27…that's perfect to me and that's all that matters," Amber tweeted on Thursday.
Job: Andrew met Amber while working camera/gaff on 'Marriage Boot Camp Reality Stars: Family Edition' back in June. He was a crew member on the set. He's been working behind the scenes of productions for years, and one source tells The Ashley that Andrew is "very well-respected in the industry."
Location: Andrew lives in the Los Angeles area, which is obviously going to make it difficult to date Amber, who lives in Indianapolis, Indiana.
Family: Andrew comes from a long line of "Hollywood folk." His grandmother, Mary, was a script supervisor during Hollywood's Golden Era, and his grandfather Bert was a very successful cinematographer. His sister is an actress. His father, James, was a well-respected and famous cinematographer and director of photography. He won an Emmy for his work on "Deadwood" and worked on more than 40 films over the course of his career.
Nearly all of Andrew's family tree is rooted in Hollywood.
Education: Andrew appears to have graduated UCLA, which is a big step up from the education levels of Amber's previous boos.
Arrests: It appears that Andrew has a clean criminal record!
Children: Unlike Amber's ex, Matt Baier, Andrew has no children!
The Ashley will have more info soon!
(Photo: MTV, Instagram)