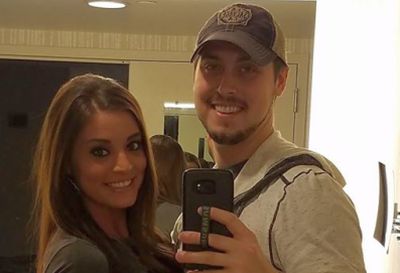 Jeremy Calvert's engagement to Brooke Wehr ended in an explosion of social media rants, ridiculous accusations and a bunch of drama this past spring, but it appears that the "Ross and Rachel" of Teen Mom 2 are giving their relationship yet another try!
They were photographed together last weekend while attending a concert.
On a recent episode of 'Teen Mom 2,' Jeremy explained to his ex-wife Leah Messer that Brooke broke up with him over an extended phone conversation he had with Leah. Brooke and Jeremy both later stated that their break-up had nothing to do with Leah, and that MTV just edited it to look like Leah was the cause to add more drama.
It is unknown if Jeremy and Brooke are engaged again, or if they are just dating. It's also unknown if the couple will try (once again) to launch their failed joint clothing line.
Long live #CalvertWehr!
Note from The Ashley: The original version of this story included Facebook quotes from Brooke that discussed her relationship with Jeremy. Those have since been proven to be fake and have been removed. However, everything else in the original story is correct.
(Photo: Facebook)