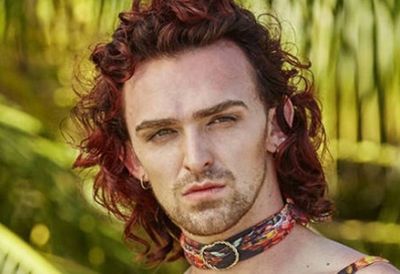 Tuesday's episode of MTV's The Challenge XXX: Dirty 30 ended on an intense note as viewers saw Chris "Ammo" Ammon Hall collapse just moments after being defeated by Jordan Wiseley in the Presidio elimination game. The episode ended with Ammo on the ground and a medic being called.
Ammo opened up about the incident this week, revealing he was raped by a former partner last year and the sand wrestling match in the Presidio had triggered an intense episode of post-traumatic stress disorder (PTSD).
"In November of 2016 I was raped in my own bed by my former partner," Ammo explained on a YouCaring page he created to raise awareness and funds for his recovery. "I remember saying 'no' and 'I don't want to' but my partner insisted that he was going to 'make me take it' and teach me 'how to be a man.'"
Ammo described the incident as "painful, mortifying and non-consensual," however, he said he did not realize at the time that it was rape. That realization came after speaking with a social worker and asking her if someone could be raped by a person who cares about them.
"She put her hand on my knee and said: 'Rape can happen to anyone, by anyone. Sometimes it is the people closest to us that hurt us the most," Ammo wrote.
Ammo said he decided to take part in this season of 'The Challenge' to prove to himself that he was strong and that he could do anything.
"I wanted to show myself, my ex partner, and the world that I was the master of my mind and my body and that NO ONE could take my spirit away from me," he shared. "As many of you saw in the most recent episode, I have a lot of healing still left to do."
While underneath opponent Jordan during the sand wrestling match, Ammo said his mind triggered memories of his assault and he was left in a state panic that caused him to be "totally paralyzed."
After leaving the show, Ammo returned to New York and immediately started recovery.
"Since then, I have been focused on taking better care of myself and working hard to get the medical and psychological help I need," he wrote.
To help in his recovery journey, Ammo is asking for donations to allow him to "continue to make my music and get the continued help and support I need."
He is also encouraging others to speak up if they or someone they know are being abused by a partner.
"Trust me when I say: RECOVERY IS POSSIBLE," he shared. "Sometimes all it takes is reaching out and simply saying: 'I need help.'"
For more information, or to donate to Ammo's YouCaring page, click here!
(Photo: MTV)