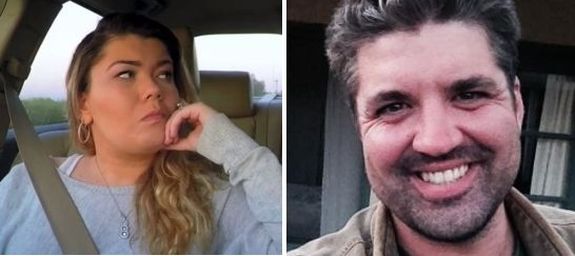 The skeletons are already starting to come out of the closet!
Amber Portwood's new boo, Andrew Glennon, admitted on Thursday to having two restraining orders filed against him by two different past girlfriends. His statement came after Radar Online discovered and published the previous protective orders that had been filed against the Teen Mom OG star's new boyfriend.
Radar discovered that Andrew's ex-girlfriend of three years filed a protective order against him in October 2013. The site posted photos of the actual restraining order documents the girl filed against Andrew.
In the documents she claimed that after she broke up with Andrew, he "hid her keys" and the day after "wouldn't leave [her] apartment until [her] dad threatened to call the police."
After that, the girl claimed that Andrew just wouldn't quit her, even hacking into her iTunes account to install the "Find my iPhone" GPS tracker on her phone. In the documents, the woman wrote that she feared for her safety, given that, at 6'7 and over 300 pounds, Andrew was much bigger than she was.
"In May, he showed up uninvited and after I asked him to leave he secretly let the air out of my tire till it was flat," she wrote. "On my birthday, [he] showed up at my work under a false name delivering flowers. Security at my work turned him away… [He kept] calling, texting, emailing obsessively and emailing threatening statements."
In a statement to Radar, Andrew said: "I have three sisters and would never consider stalking nor harassing any women. In hindsight, I should have contested the first [restraining order filed against me]."
Andy hadn't changed his ways by 2015, when a second ex filed a restraining order against him, according to Radar. In April Ex #2 filed a domestic violence restraining order, asking that her family also be protected from Andrew, whom she said in the documents she only dated from November 2014 to January 2015.
"He has threatened me verbally and I believe yesterday he sent an anonymous letter to my boss and coworkers to deliberately trying to smear me," she wrote. "He has contacted my family and my friends in order to try and find out about me. I am scared for my safety and I am scared of him."
In a statement to Radar, Andrew claimed that he did not even know that ex filed a restraining order against him. He did admit to writing the letter to the girl's employer, though.
"I felt it necessary, her being a teacher, to let her employers know what type of person they have working for them," he told Radar. "She was one of the most poisonous relationships I've ever had."
He later claims that he still talks to that "poisonous" ex-girlfriend today, though.
As The Ashley told you, Andrew comes from a prominent Hollywood family, and has never been arrested.
In his interview with Radar, Andrew said he took two years off from dating to better himself.
"I've learned from those relationships and all those hard experiences have helped shape me to the man I am now," he said.
This appears to actually be true. In December 2016 (months before he met Amber), Andrew told a friend on Facebook he was not dating until he bettered himself.
"I am officially off the market until I feel personally satisfied with my life's progress and have formed a stable foundation in which I can can have children and be fully present," he told the friend on Facebook.
Apparently when he met Amber on the set of Marriage Boot Camp, he felt that he had improved himself enough to pursue a relationship with her. The couple has been inseparable since they began dating earlier this summer. Andrew has already been to Amber's home in Indiana, and met her daughter Leah. He will appear on the next season of 'Teen Mom OG.' Amber has called her relationship with Andrew "serious."
Surprisingly, Amber has remained silent on the situation since Radar broke the story on Wednesday. In the past, Amber defended "her man" (who at the time was Matt Baier) via rants on social media, but it appears that she may be taking the high road here.
(Photos: MTV, Facebook)