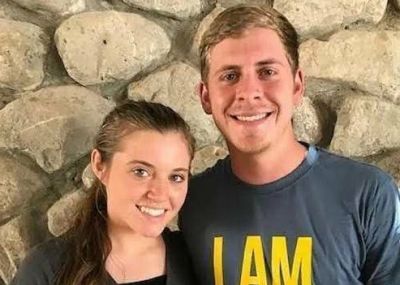 Joy-Anna Duggar wasted no time procreating with her new husband, Austin Forsyth!
The 19-year-old newlywed announced on Wednesday that she is currently pregnant with the couple's first child.
"We're so happy and thankful to announce that we're expecting a baby!" Joy-Anna told People.
"Every child is such a precious gift from God. I'm most looking forward to watching Austin as a dad and raising children together with him," Joy added.
Joy did not reveal how far along she is in her pregnancy; however, she can't be more than three months because she and Austin have only been married since May. (There's always the possibility that something very "un-Duggar" happened before marriage, but it's pretty unlikely, considering these two were chaperoned for their entire courtship.) To see her baby bump, click through the couple's Instagram photos below.
"When we found out we were pregnant we were both extremely happy, and blessed," Austin says in a video posted to the Duggar Family's official website.
"Before we were even married, we were praying that God would give us kids, and we're so thankful that he has," Joy, who will be 20 by the time the baby is born, adds.
According to People, Joy and Austin are living in Arkansas near the Duggar Compound. (Perhaps ol' Jim Bob gave them that creepy house he bought last season?)
Joy and Austin have both stated that they plan to leave the amount of children they have "up to God."
"We want as many as the Lord thinks we can handle," she told People earlier this year.
All of Joy's married siblings have announced a pregnancy within six months of getting married (with the exception of her older sister Jinger, who got married in November 2016 and has yet to announce a pregnancy). Josh Duggar and his wife Anna are about to welcome their fifth child, while Jill Dillard and Jessa Seewald each have two children. (This will be Jim Bob and Michelle's tenth grandchild.)
As a general rule, the Duggar Family does not believe in birth control, which is likely why some of the Duggar kids (such as Jill and now Joy) have gotten pregnant almost immediately after getting married.
Watch the pregnancy announcement video below:
(Photo: Facebook, Instagram)