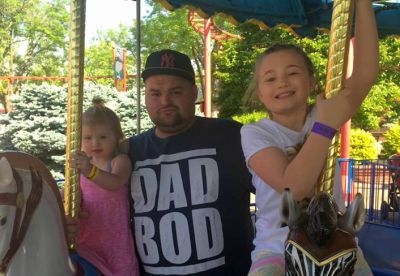 Teen Mom OG dad Gary Shirley got chatty on the red carpet of the MTV VMAs last month, talking to In Touch Weekly about Amber Portwood's new boo and his daughter Leah. The "Dad Bod" enthusiast also spoke to the magazine about the possibility of him and wife Kristina adding to their brood in the future.
Gary, who currently has 8-year-old Leah with Amber and 2-year-old Emilee with his wife, stated that he would love to have more children…but there's just one slight problem.
"Actually Kristina had gotten her tubes tied," he said. "I would love to have more kids."
(Surely Kristina is thrilled that her husband was talking about her "tubes" on the VMA red carpet!)
Gary and Kristina also have partial custody of Kristina's nine-year-old daughter from her previous marriage, so they have a full house already. Still, Gary said he'd love to a few more Gary juniors…but sometimes raising them can be a drag.
"It's the hassle of taking care of them because your relationship gets put on the back burner," he said.
He said that he might be able to convince his wife to head over to the surgeon's office and get those pesky tubes untied.
"Maybe one day we will go back and untie them," he said.
He went on to say if that doesn't work out, he and the Mrs. have considered other options.
"Maybe fostering, that was something we were interested in," Gary said. "And you can adopt through fostering."
He said that he knows Leah would be thrilled to have more siblings because she is a great big sister.
"Leah tries to be the big sister and the big mama so it helps out quite a bit," he said. "Leah does an amazing job of being a big sister. She wants to take her toys still. But I tell her that one day this girl is going to look up and want to be everything that you are and she will idolize you one day."
Leah may have more siblings to look forward to, as her mom Amber has stated numerous times that she wants more children someday. Her relationship with Andrew Glennon is "serious," according to the 'Teen Mom OG' star, so that day may be coming sooner rather than later!
(Photo: Facebook)