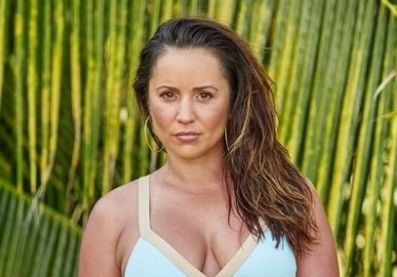 Veronica Portillo is back on MTV's The Challenge after an eight-year break, participating in the current "Dirty 30" season. The veteran Challenger recently did a Reddit "Ask Me Anything" session in which she answered fans' questions about the current season, her cast mates and how the show has changed over the years.
Veronica revealed a bunch of interesting factoids about 'The Challenge' during the Reddit AMA session. Here are the 10 things The Ashley found most interesting…
She doesn't have much respect for the new gals on the show.
Veronica revealed what she really thinks of the latest crop of girls, which come from both 'The Real World' and 'Are You The One?'
"They are a bunch of Instagram basic bitches," Veronica told a fan on Reddit of the rookie 'Challenge' gals. "There, I said it."
The 'Challenge' crew used to have a lot more freedom…and a lot more fun on the show.
"The most predominant differences between the Challenges back in the BOTS/Gauntlet/Inferno days is the amount of freedom we had OFF CAMERA," Veronica wrote. "You could really get away with so much s**t back then. We had so much fun and treated Challenges like it was some type of vacation."
Veronica went on to say that she and her ex-girlfriend Rachel Robinson took advantage of all the freedom they were given on the early seasons.
"We had so much freedom, it's crazy," she wrote. "We shot The Gauntlet in Telluride and our house was part of a resort with shared access to a spa and gym. Every day I would hand over my microphone to production & we (Rachel & I) would go 'workout.' We would go into town and have nice dinners, just the two of us, off camera, at least once a week. We left the set during 'Inferno 2' and got a hotel room for a night.
Everyone generally got along better because they weren't as stressed out all the time.
While there were fights and stressful situations back then, Veronica suggested  that there were better friendships in the olden days (compared to now) because the cast had more fun together.
"A bunch of us would hang out and have fun off-camera," she wrote. "We'd also get into trouble, off-camera…We were wild and crazy and the experience as a whole was so much fun! Fun brings people closer together, as far as I'm concerned. So yes, the freedom we had definitely impacted the way we felt about each other and the dynamics as a whole."
There were a lot more gay relationships happening back then.
Veronica recently revealed on 'Dirty 30' that she had a "secret" relationship with Rachel Robinson. During her AMA, Veronica wrote that they weren't the only ones in that situation.
"We literally used to hook up in closets, literally and figuratively!" she said of herself and other former 'closeted' cast members.
The show's legal team plays a much bigger part in the show now than it used to.
"Legal has a say in absolutely everything these days," Veronica says, adding that it is "more, much more" of a say than it had in the olden days.
The cast used to get a whole day off from the cameras each week.
The current 'Challenge' cast members have the cameras on them for most, if not all, of their time in the house. Back in the early seasons, though, the cast used to get a day off from filming, according to Veronica.
"Fun fact: we used to have Saturdays off completely," she wrote. "What this means is no camera crew was with us. As you can probably imagine, most of the game talk and hook-ups would happen on this day and then the story would be messed up…Let's just say a huge fight erupted on Friday night, by the time the cameras started rolling on Sunday, all parties involved would have their stories straight and be chummy with each other. It left huge holes in the story being told."
The nights out partying are different than they used to be.
These days, the "fun nights out" at "da club" are all about game-play, Veronica said.
"Our schedule is smarter for better story," she wrote, "We do a Challenge, that night we go out and everyone plays their political game (so f**kin' annoying) and then the following day is the deliberation, nominations, elimination."
In past seasons, Veronica said that the cast would go out on the night of eliminations. Switching to going out the night before nominations and eliminations has changed things a lot.
"I think this change has made a big difference in the plotting and the drama because everyone's emotions are screaming RED while out. And whomever is in the power seat(s) gets their ass kissed all night," she wrote.
Some of the "Dirty 30" cast members took cheap shots at Veronica.
When asked what the worst part of coming back to the show after so many years was, 39-year-old Veronica revealed that she endured a lot of catty comments from the other people on the show.
"Because I haven't done [a 'Challenge'] in such a long time and am not expected to return people don't need to really nurture a 'game relationship' with me," she wrote. "[Another bad part was] people making fun of my age/body, etc."
She's not on the show to sell you anything.
Veronica made note of how many of the 'Challenge' stars are using their fame from the show to hawk various things. (This is true: 'Challenge' cast members use social media to try to sell fans just about everything– whether it be their fitness careers, weird weight loss tea on Instagram or whatnot.)
Veronica said she's not into that.
"I don't have a business I'm trying to push on the side," she wrote. "I went back more for the experience and the memories.
"I'd like to point out that people fall into the 'fitness' thing because of the show," she added. "Very few people come on the show with a fitness career they are trying to push."
There are more political talks in the house than you'd think.
"Yes, people talk politics and yes there are VERY VOCAL Trump supporters in the house," she wrote. "On 'Champs vs Pros' I chose Planned Parenthood as my charity, causing a lot of negative comments from Bananas and Jordan."
Veronica stated that she tried to stay away from all the political chatter.
"I roll my eyes and drink wine," she wrote when asked how she handled it in the house. "And I stay as far away from them as humanly possible."
(Photo: MTV)