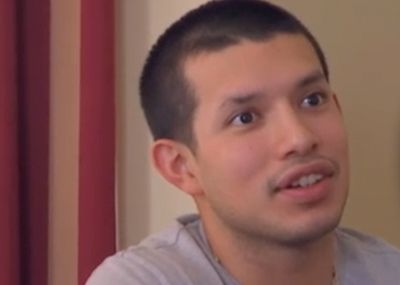 Javi Marroquin is telling us how he really feels about his Teen Mom 2 co-star Jenelle Evans! It's safe to say that Jenelle is not on Javi's Christmas card list!
In a new on-camera interview with Radar Online, Javi revealed that he has little use for Jenelle.
"Me and Jenelle are not on good terms," Javi said.
"I don't like the way she acts or some of the stuff she says," he added. "[She] never says it in person, it's always on social media. That's how they want to act things out but we'll all be at the [Teen Mom 2] Reunion pretty soon so it should be a good one!"
Javi also commented on Jenelle's recent battle with the grandmother of her son Kaiser. (As The Ashley previously told you, Nathan Griffith's mother filed for emergency custody of the boy, claiming that he has been neglected and abused by Jenelle and her fiance David Eason.)
"If it is true, good for [Nathan and his mom], protecting Kaiser and doing what they need to do," Javi said. "People don't change in my opinion."
Javi later tweeted that he and Jenelle had talked out some of their issues. He deleted the tweet soon after he posted it.

In an off-camera interview with Radar, Javi also confirmed The Ashley's recent story, which discussed the controversial trailer for the upcoming season of Marriage Boot Camp: Reality Stars, which will feature Javi and his ex-wife Kail Lowry.
In the trailer, Kail can be heard screaming, "I slept with your best friend!" As The Ashley told you, the "best friend" Kail is referring to is a girl she slept with who was her friend first, but later became close with Javi.
"She told me when I came home from my deployment," Javi said. "She was a girl. I wouldn't say she's my best friend. Even if it was a girl, it doesn't make it easier. It was ugly, it was nasty."
Javi and Kail's season of 'Marriage Boot Camp: Reality Stars' was filmed in October 2016, and is set to air next month. This means the footage will be over a year old when it finally makes it to our TV screens.
Watch Javi's on-camera interview with Radar Online below:
(Photo: MTV)