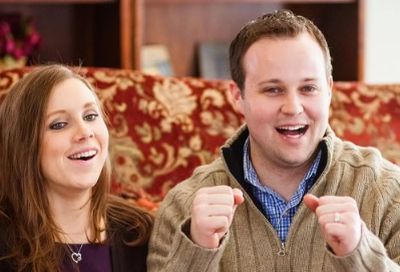 Two years after Josh Duggar disgraced his family via cheating and molestation scandals, the former 19 Kids and Counting star celebrated some good news.
The Duggar Family announced on its website that Josh and his faithful wife Anna— who stuck by Josh through all the turmoil– welcomed their fifth child on Tuesday.
The baby boy weighed in at 9 lbs., 1 oz. and measured 22 inches long.
Josh and Anna named him Mason Garrett. It's no surprise that the baby boy's name begins with an "M," as all of the couple's children have an "M" name. (Josh and Anna are already the parents of seven-year-old Mackynzie, six-year-old Michael, four-year-old Marcus and two-year-old Meredith.)
The birth went smoothly and Baby Mason and Anna are healthy, according to the blog post.
"We are so thankful and happy to announce the arrival of our new son, Mason Garrett Duggar," the Duggars wrote. "Both he and Anna are doing well. He arrived today without complication and we already adore him. The entire family is ecstatic over the arrival of another beautiful blessing."
In March, the Duggar Family quietly announced that Josh and Anna were expecting again. Josh and Anna have stated that they have gone to marriage counseling to repair the damage that Josh's multiple scandals did to their relationship.
"For nearly the last two years, we have quietly worked to save our marriage, focus on our children, and rebuild our lives together as a family," the couple said in a statement in March. "Doing so is never easy after a breach of trust. We've learned that a life of faith and rebuilding a life together is simply done one day at a time. As we continue our journey as a family and rebuild our lives, we are delighted to share with you that we are expecting a new baby boy later this year. Beauty comes from ashes and we cannot wait to see and kiss the face of this sweet new boy!"
Josh's scandals caused his family's TLC reality show to get cancelled in the summer of 2015, and, while his siblings have continued on with reality TV via their reality show Counting On, Josh has not made any on-screen appearances on the show to date.
He has kept a relatively low profile since returning from rehab. (Over the weekend, Josh did appear in a congrats video to his just-wed brother Joseph and his bride Kendra Caldwell. That marked the first time Josh has tried to get back into the public's good graces.)
The new baby is the Duggar Family's ninth grandchild. Josh's younger sister, Joy-Anna Duggar is due to give birth to Grandchild #10 next year.
To see the first photo of Baby Mason, click here!
UPDATE! Us Weekly has obtained more info regarding Mason's birth.
"Anna gave birth at her home in Northwest Arkansas with a midwife," the Duggar family's rep told Us Weekly. "Her water broke Monday morning early and she labored all day before having Mason at 1:22 a.m. Tuesday. Both her mom and Mrs. Duggar are there now helping out."
The Duggar Family Blog revealed why Garrett was chosen as Mason's middle name.
"Garrett is a family name from Michelle's side," the blog reported. "Her father was Garrett Ruark, and her brother is Garrett Ruark Jr. Joseph's middle name is also Garrett."
(Photo: TLC)