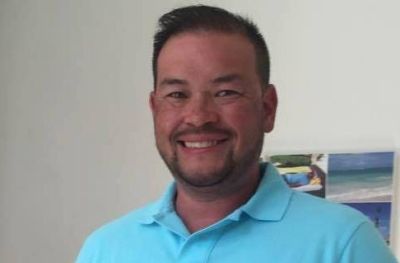 Jon Gosselin is about to go into battle against his ex-wife, Kate Gosselin, and he needs his fans' help—and their money!
The former Jon and Kate Plus 8 star has started a GoFundMe fundraiser to help raise money he will use to fight his ex-wife for custody of their twins and sextuplets. Jon no longer stars on his family's TLC reality show, Kate Plus 8, so he does not have the income that his ex-wife has to pay the legal fees associated with a custody battle.
"Jon does not have a network-funded public relations machine behind him to spin the facts," his GoFundMe page states. "He works a steady job and earns extra money on the side as a disc jockey."
(He also raised some cash– most likely a lot of dollar bills– working as a male dancer in Atlantic City earlier this year.)
So far, Jon has raised just $2,398 of his $30,000 goal.
This fight isn't surprising, considering news broke last month that Kate and Jon got into an all-out brawl at the dentist office with one of their kids. The police were called after one of the sextuplets wanted to go home with her dad after the dentist appointment but Kate didn't want her to. Kate allegedly tried to pull the girl out of the car to keep her away from Jon.
Now, Jon is fighting to get more time with his children.
The GoFundMe page was started by Jon's girlfriend Colleen Conrad, and explains that fans have been asking Jon for a long time how they can help him get more custody of his kids.
"Money raised in this campaign will go to the legal battle ahead as Jon secures his rightful place in the lives of his family," the page, which is entitled "A Dad's Chance to Fight," states.
"For Jon, it's been an eight-year battle in family court, one that pits him against media and financial forces that far exceed his own."
The GoFundMe also makes sure to throw Kate (and her TLC income) under the bus for good measure.
"Fame and fortune do not always go together, and Jon is the perfect example of that reality. Things are not always as they are portrayed in the tabloids or on television," the GoFundMe states. "Now he is forced into an expensive unjust battle for custody, one that drains his time, energy and finances. It is a fight he did not seek; it is a fight he does not want. He remains focused on the welfare of his children. He wants to make sure every decision that is made on their behalf is made in their best interest."
Jon and Kate divorced in December 2009. They settled their custody agreement for their eight kids sometime after that, but Jon has stated in the press numerous times that he is not always kept informed about his children's lives and whereabouts.
Over the years, Kate has been accused of being abusive to her children by numerous people. She has denied those claims.
Jon's Twitter feed, which boasts a picture of him looking forlornly off into the distance, makes no mention of the GoFundMe.
(Photo: Facebook)