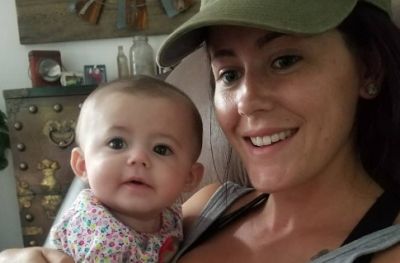 Last week, The Ashley revealed exclusive details regarding an investigation that was opened up by the North Carolina Division of Social Services (DSS) to investigate Teen Mom 2 star Jenelle Evans, after both she and her daughter Ensley tested positive for THC (an active ingredient in marijuana) at the time of Ensley's birth in January.
As The Ashley told you, Jenelle used some very clever methods to help her get out of trouble, and now The Ashley can reveal even more details regarding that investigation!
According to court documents obtained by The Ashley's sources, Jenelle and Ensley tested positive at the hospital, which opened the investigation. In March, a DSS rep reported that, during the months-long investigation, Jenelle and her fiance (and Ensley's father) David Eason, tested dirty at least one other time.
"Mother and father tested positive for substances during investigation," the document reportedly reads. (The document did not indicate what 'substances' the pair tested positive for. The Ashley assumes it's THC, but can't confirm that.)
A representative of New Hanover County Department of Social Services (NHCDSS) paid a visit to Jenelle's home in March and reported some disturbing issues.
"NHCDSS visited the home and smelled THC and the child [Ensley] was present in the room at the time," the social worker reported. "Neither parent cooperated in testing additionally when requested to do so."
The social worker, who visited the Evans/Eason home weekly during the investigation, reportedly set goals for Jenelle and David to follow. Those goals included "to ensure parents do not use illegal substances in the presence of their children or while pending care" and "to make appropriate supervisions for child care, to be more responsible."
From what The Ashley hears, the investigation surrounding Jenelle and David (that stemmed from Ensley's positive test at birth) ended around May, so it can be assumed that Jenelle and David followed the requirements that NHCDSS set for them.
In an interview with Radar Online on Tuesday, Jenelle's mother, Barbara Evans, confirms both Radar's and The Ashley's reports about DSS investigating Jenelle and David after Ensley's birth.
"That's a fact," Barbara told Radar regarding the investigation. "I have Jace, so when something like that happens, they contact me."
Barbara added that the investigation had a lot to do with why she battled Jenelle in court in May to keep custody of Jace. At the time, Barb did not reveal anything about the investigation.
"That's the reason we were going to court. I can't send him over there when that's happened [Ensley testing positive for drugs]," Barb said. "I don't want to put him in that atmosphere.
"I knew all along [about Ensley] and never exposed it until the day of court in May," Barbara added. "And the baby was born in January. All that time I never opened my mouth."
Barb also confirmed that MTV knew about the investigation but has so far "omitted it" from 'Teen Mom 2' (just as The Ashley told you last week). Babs told Radar that she discussed the investigation with one of Jenelle's friends during filming.
"I said it [Ensley testing positive for drugs]," Barbara said. "Everybody thinks that I held Jace back, I told the girl. That's the reason why. She said 'I didn't know that.' Well, nobody knew it. I was contacted about the investigation and told about it in court."
In her interview with Radar, Babs also claimed that Jenelle smoked throughout her pregnancy with Jace. (For the record, The Ashley is not confirming or denying that statement.)
"You should not be smoking weed when you're pregnant," she told the site. "She was friggin' stoned the whole time [she was pregnant with Jace.] I don't care what it is. It is illegal. She is irresponsible."
Nathan Griffith's mother, Doris Davidson, filed for emergency custody of Jenelle's middle child, Kaiser, on September 1, stating that the investigation was one of the reasons she feared for her grandson. The Ashley reported that Doris later withdrew her bid for emergency custody, but The Ashley's sources tell her that there is still something in the works.
The Ashley will have more info on this soon, so stay tuned!
(Photo: Instagram)