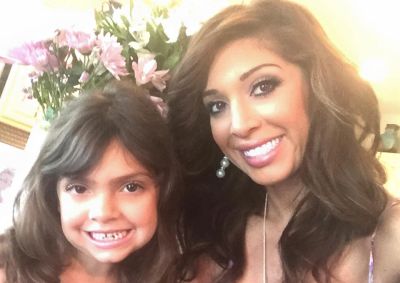 Farrah Abraham once stated that her eight-year-old daughter Sophia is the boss of the Texas boutique that bears her name…but apparently that's not the only thing the little girl is in charge of. In a new interview, the Teen Mom OG star revealed that Sophia also gets a say in who Farrah is–and isn't–allowed to talk to!
Farrah told E! News that she has remained "cordial" with her ex, Simon Saran…but that Sophia doesn't let her to associate with him anymore.
"I'm not allowed to talk to him because Sophia doesn't like him," she said.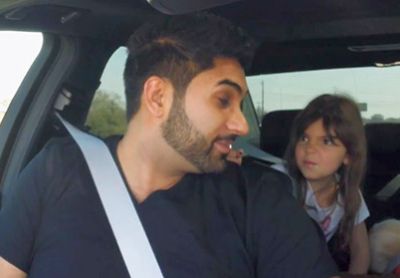 Sophia seems to run a tight ship. In the same interview, Farrah stated that her daughter doesn't want to continue to have a relationship with her grandmother, Debra Danielsen, but that she's trying to convince the little girl to keep Deb in her life.
Farrah added that Debra's upcoming November wedding has driven a wedge between Sophia and her grandmother.
"Sophia doesn't really want a relationship with my mom but I'm still trying to make sure that she is around and keep that relationship is surviving and alive," Farrah told E! News. "With my mom's wedding right now it's made Sophia not want to be around her. I'm kind of stuck in the middle trying to have everyone get along. Sophie is not approving of it but I am happy for [my mom] and supportive."
Farrah has made it well-known that she doesn't approve of her mom's fiance, Dr. David Merz, and has stated numerous times that she's boycotting their upcoming wedding in protest. She stated that Sophia refuses to attend as well.
Even though Sophia isn't so keen with clocking hours with Debz OG, that hasn't stopped Deb from accompanying Farrah and Sophia on trips. Debra is currently in New York City with them watching Sophia do a runway show for New York Fashion Week. Farrah revealed that Debra would also be going to Italy with them in the coming weeks.
"We just try to keep it cordial," Farrah said, later adding, "I think my daughter and I are having the times of our lives together right now."
(Photos: Instagram, MTV)