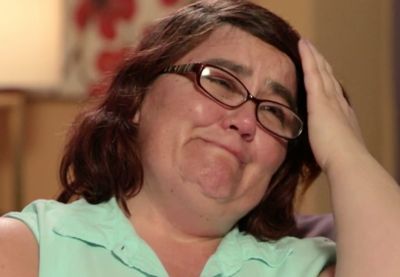 Danielle Jbali won't be getting that Mama June-style makeover show after all.
The 90 Day Fiancé star—whose divorce from Mohamed Jbali has given fans plenty of drama to watch—was reportedly slated to star in a makeover show much like Mama June: From Not to Hot. But it looks like that's no longer happening, due to Danielle's recent nasty split with her former management team! 
Earlier this year, Danielle partnered with GR Media Firm but, much like her marriage, that partnership seems to be have been short-lived. The owner of GR Media Firm, Gina Rodriguez, starred and served as an executive producer on Mama June's show, but apparently, things between Danielle and Gina (who, coincidentally, was Farrah Abraham's manager during her "Backdoor Teen Mom" phase), went sour.
Danielle posted about it on her Facebook account, writing that Facebook drama was actually one of the reasons she decided to part with the company.
"I would like to let my fans and supporters know I am parting ways with manager Gina Rodriguez and Brandilyn Snail," she wrote. She claims that post was deleted so she wrote another one.
"Ok let me try this again. I posted this statement an hour ago but it got deleted. I would like to let my fans and supporters know I am parting ways with manager Gina Rodriguez and Brandilyn Snail," Danielle wrote, insinuating that her former manager was to blame for the high amount of spammy posts on Danielle's Facebook page. "I am sorry to my fans for posting all the click-bait that was not my idea. I love talking, sharing photos, and giving updates on my life and I was being prevented from doing that."
According to Starcasm's source, Danielle was upset by the amount of control over her social media accounts her former managers allegedly wanted.
"They did not want her posting, commenting, or answering questions [on social media]," the source said. "Danielle was answering tweets last weekend and Gina bitched at her for doing it."
The source also told Starcasm that Danielle was also told to stop posting photos of her family on Instagram and to stop doing her '90 Day Fiancé' reaction videos. Danielle had been doing these reaction videos with Periscoper John Yates.
The source also said Danielle was not happy with the click-bait type articles that were being posted to her Facebook page.
"She did not start those, they did," the source said, adding that when Danielle expressed dislike of the posts to her manager, she was told to "not worry about it."
It's routine for the reality TV stars to use their Facebook pages (which often have hundreds of thousands of followers) to make deals with companies who pay them for each click the articles get. (Many of the 'Teen Mom' girls use these companies to make extra cash, for instance.)
Starcasm's source said that Danielle had her hopes up to get her own makeover show—and even lost six pounds in preparation—but it looks like it might have been in vain.
"Danielle's makeover show is not possible unless another network or entertainment outlet picks it up," the source said. "Danielle is very disappointed. She really wanted to do it."
Danielle later tweeted that her former managers were not happy about Danielle's "friend" doing the interview with Starcasm. She claimed that two of the managers were stating that "they are going to sue."
In a series of tweets (which have since been deleted) Gina responded to Danielle's claims. She confirmed that Danielle is no longer working with GR Media Firm, but stated that she ended the relationship with Danielle (and not the other way around), due to Danielle's "unstable behavior." (Go figure!)
In her tweet, Gina stated that things got so crazy, that "we almost had to get a restraining order."
Danielle has not yet responded to those claims.
UPDATE! In a new interview with Starcasm, Gina reaffirmed that she was the one who ended the business relationship between her and Danielle.
"I quit on Danielle, not the other way around," she says, "and it had zero to do with the story she made up about social media."
Gina said that Danielle did not take the news well.
"We had to block her on everything because she could not accept that we no longer wanted to work with her."
Gina also revealed that there was no 'From Not to Hot' reality show in the works for Danielle, despite what the "90 Day Fiance" star and the media said previously.
"There was never a makeover show for Danielle," Gina told Starcasm. "The media made that up because I produce June [Shannon]'s show."
To read the rest of Gina's interview, click here!
(Photo: TLC)