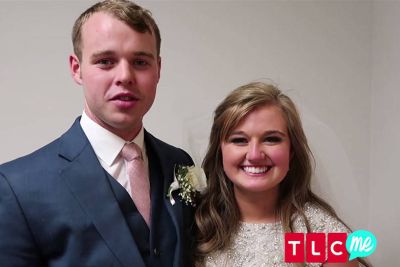 Another Duggar wedding is in the books!
Joseph Duggar is the lasted kid from the Counting On family to tie the knot. His wedding to 19-year-old Kendra Caldwell took place at the First Baptist Church in Siloam Springs, Arkansas on Friday, just three months after Joseph proposed at his sister Joy Anna's wedding.
The couple, of course, sat down with People magazine the minute the ink was dry on their marriage license to dish all the details. Joseph gave the magazine basically the same quote all of his siblings have given on the day of their wedding.
"It is an amazing feeling to be husband and wife," Joseph told the magazine. "It's something that I've always dreamed of to have a wife and to raise a family in a way that honors the Lord. We are very excited to see what God has in the future for us."
Just like all of his siblings who have gotten hitched, Joseph waited until he was married to have his first kiss. In a video posted on TLC's website, Kendra and Joseph proclaimed that their first kiss was "amazing."
Of course.
"You always have expectations of the first kiss, but this blew all those expectations away," Joseph said in the video.
Although the couple followed many of the Duggar wedding tradition, they did add a few unique touches of their own. The bride wore a jeweled top and full princess skirt for her wedding ensemble. She also chose to have her mother serve as a bridesmaid.
(Anyone else think Duggar Matriarch Michelle is wondering why none of her daughters asked her to strut up the aisle as a bridesmaid in their weddings?)
In addition to her own mother and sister, Kendra chose a gaggle of Joseph's sisters to be her bridesmaids. Jana (who has been a bridesmaid in at least eight weddings in her 27 years of life), as well as Jill, Jinger, Jessa, Joy-Anna, Johanna and Jennifer all served as bridesmaids. They wore light pink dresses with sleeves.
Joseph chose his brothers Josiah, John David, Jedidiah, Jeremiah, Jason, James and Justin as his groomsmen. (Oldest brother Josh did not make the cut, apparently.) The guys all donned navy suits.
It appears that Joseph's dad Jim Bob was attempting to keep the cost of the wedding reception down. (Gotta hold on to that TLC pay until they see if they get another season of 'Counting On!') The couple treated their guests to "cupcakes and salty snacks" in the church gym for the reception.
They prepared the night before the wedding by rehearsing and eating ice cream and Mexican food with their family and friends.
As The Ashley previously reported, Joseph popped the question to his teen bride at his sister Joy Anna's wedding back in May. Joseph told People that he had known Kendra was the one for quite some time.
"Our families are close friends through the church and this has allowed Kendra and me to get to know each other. She's the best," he said.
Joseph's siblings wasted no time going to social media to congratulate their brother.
"Such a beautiful wedding last night! Kendra, welcome to the family! You're a gem. So blessed to call you my sister," Jessa tweeted.
In a video message, Joseph's parents, Jim Bob and Michelle, encouraged the newlyweds to get started on making babies.
"Be fruitful and multiply!" Jim Bob tells the couple.
Even Josh and his wife Anna joined in on the congratulating by making a video for the newlyweds. This marks the first time that Josh has drawn attention to himself at one of his siblings' weddings since his 2015 scandals.
Jana, along with all of her little sisters, made a very awkward video to congratulate Joe and Kendra. In the video, an enthusiastic Jana talks about how happy she and her sisters are about the wedding. (The sisters look totally miserable, though.)
Joe and Kendra have not revealed where they will be honeymooning, but they are likely to go international. (All of Joe's siblings have gone somewhere out of the country for their honeymoons, except Josh and Jill.)
The countdown until Joe and Kendra announce that they are expecting begins…now!
Wanna to learn more about the Duggars and their marriage customs? Read The Ashley's "Duggar Weddings By the Numbers" post here!
Check out Joseph and Kendra's wedding message to 'Counting On' fans below:
(Photo: TLC)