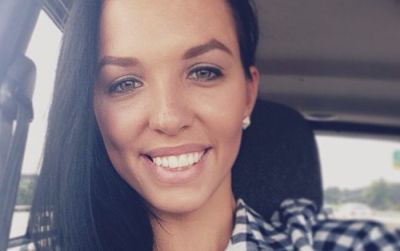 It's (another) boy for former 16 and Pregnant star Jordan Ward.
Jordan, whose episode during the series' third season was one of the highest-rated of all time, gave birth to her third child on Monday. According to Instagram posts made by Jordan, as well as her twin sister Jessica, the baby was named Leo Grey.
He was born at 9:27 p.m. and weighed in at 7 lbs. 6 oz.
"Baby Leo Grey," Jordan captioned a photo of the newborn. "Absolutely perfect. We are so in love with him!"
Leo's father is Jordan's boyfriend Manny Hinkson. Her other two children– seven-year-old Noah and five-year-old Arri–were fathered by Jordan's ex-husband, Brian Finder. (As The Ashley previously told you, the couple split in 2016.) Jordan and Brian got married shortly after Jordan's "16 and Pregnant" episode aired in April 2011.
Jordan's twin sister Jessica, who also starred on Jordan's episode, gushed about her new nephew. (She was in the delivery room to witness Leo's birth.)
"Like omg! He's so perfect! I'm gonna take him home with me," Jessica captioned a photo of the baby.
"What an amazing thing to witness! Beautiful little Leo Grey is here!" she wrote in the caption of another photo. "My sister was a champ during delivery! I'm in love…So proud of you JoJo! Witnessing you have another sweet little baby was so amazing! Can't wait to see Noah and Arri meet their baby brother!"
Jordan announced her third pregnancy back in April.
To see what the other girls from "16 and Pregnant" have been up to lately, click here!
See more photos of Baby Leo and Jordan below:
(Photos: Instagram)